New York is a captivating and engaging city. Although it is discovered in a thousand and one ways, according to the taste and expectations of each, there are essential passages.
What to do in New York? Get inspired with our video below and then discover our top 25 to visit New York  !
1. Admire the Empire State Building from the Rockefeller Center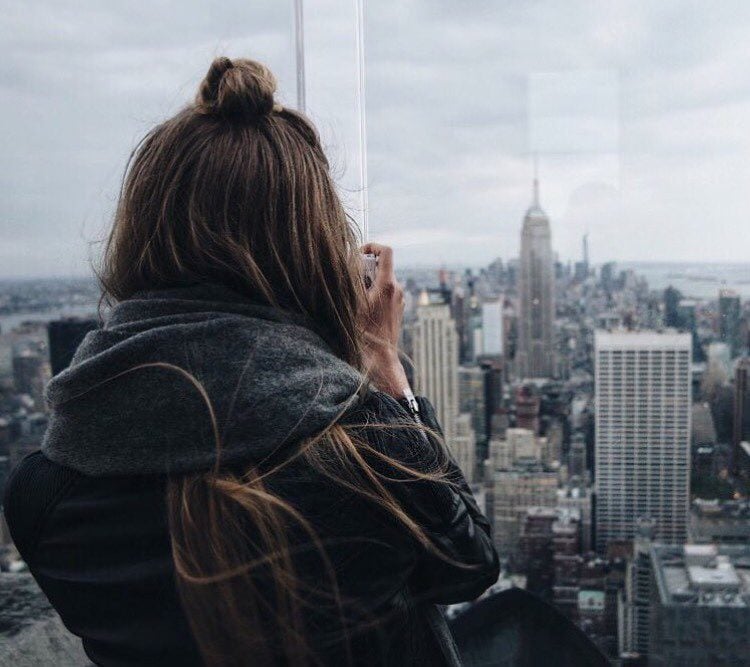 The observatory on the 70th floor of the Rockefeller Center , the "Top of the Rock", offers you a panoramic view of one of the emblematic monuments of the Big Apple .
Opening hours: every day from 8 a.m. to midnight
Address: 30 Rockefeller Plaza, New York, NY 10112, USA
Access:
$ 34 for adults

$ 28 for children under 6-12

Free for children 6 and under
2. Listen to a gospel choir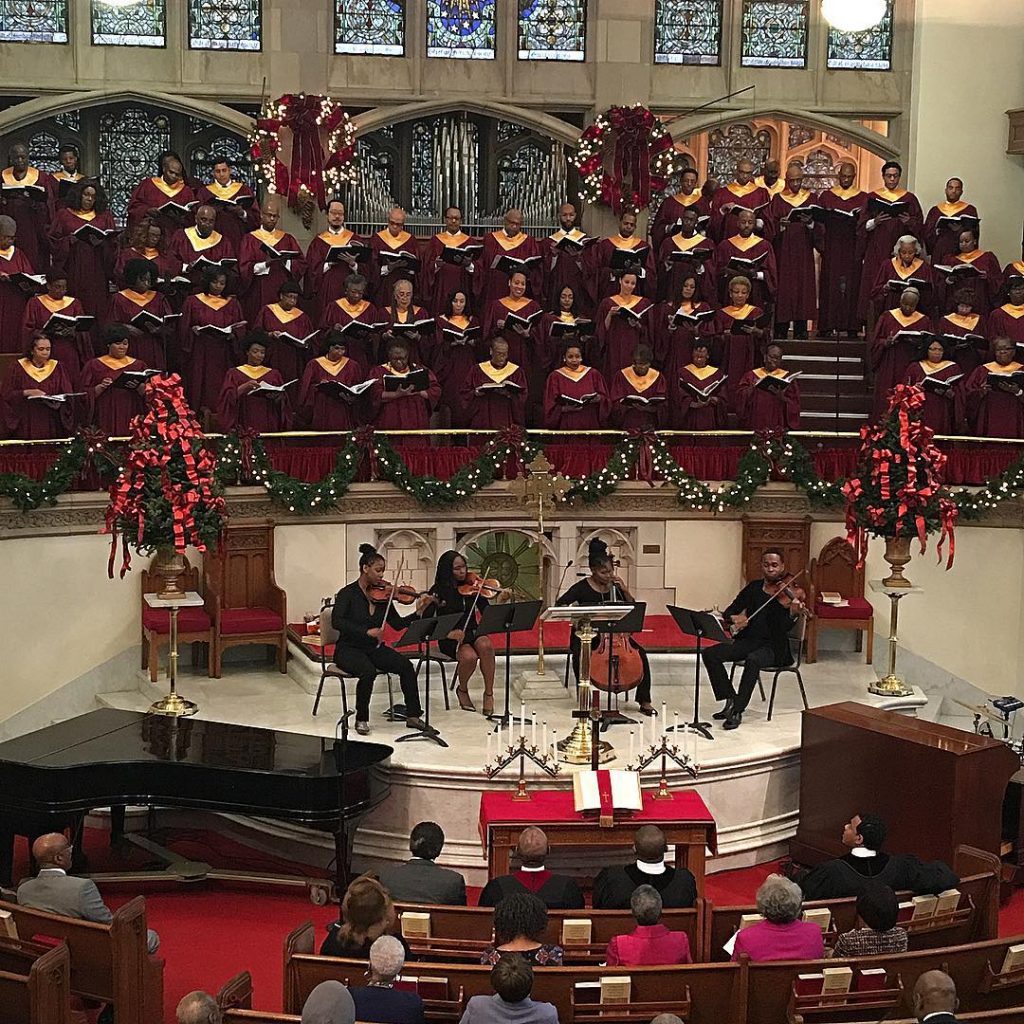 During your stay in New York , do not hesitate to think outside the box and move away from the traditional Times Square: take a tour through the Harlem district ! Its African-American heritage and heritage will immerse you in a completely different environment.
You can for example listen to a gospel choir on Sundays, in a neighborhood church! The local pastor's sermon will motivate you for the week!
Our selection: the First Corinthian Baptist Church where visitors are seated upstairs and the atmosphere is there!
Address: 1912 Adam Clayton Powell Jr Blvd, New York
If you love this area , why not find your hotel there ?
3. Lunch at Chelsea Market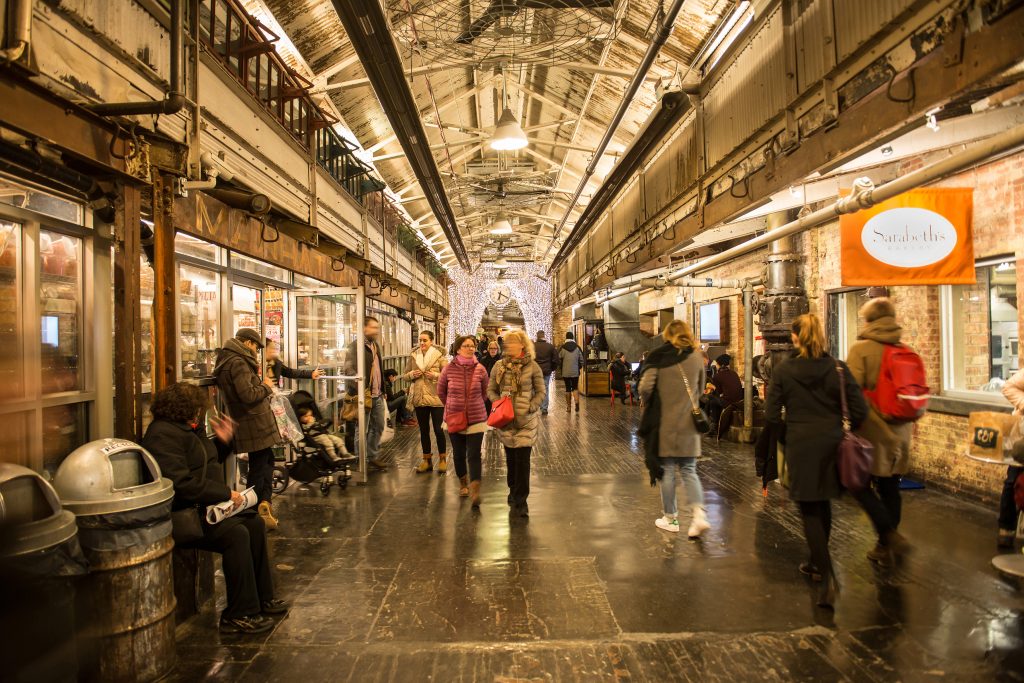 The Chelsea Market is an indoor market where you will find dozens of shops . Take-out food stalls and boutiques to do some shopping, you will find everything!
Food lovers will be won over by Maine lobster , Italian specialties , famous American cupcakes and even milkshakes !
Opening time :
Monday to Saturday from 7 a.m. to 10 p.m.

Sunday 8 a.m. to 9 p.m.
Address: 75 9th Avenue, New York, NY 10011
Take the opportunity to take a ride on the High Line , this old railway line renovated into a pleasant park!
4. Discover the Grand Central station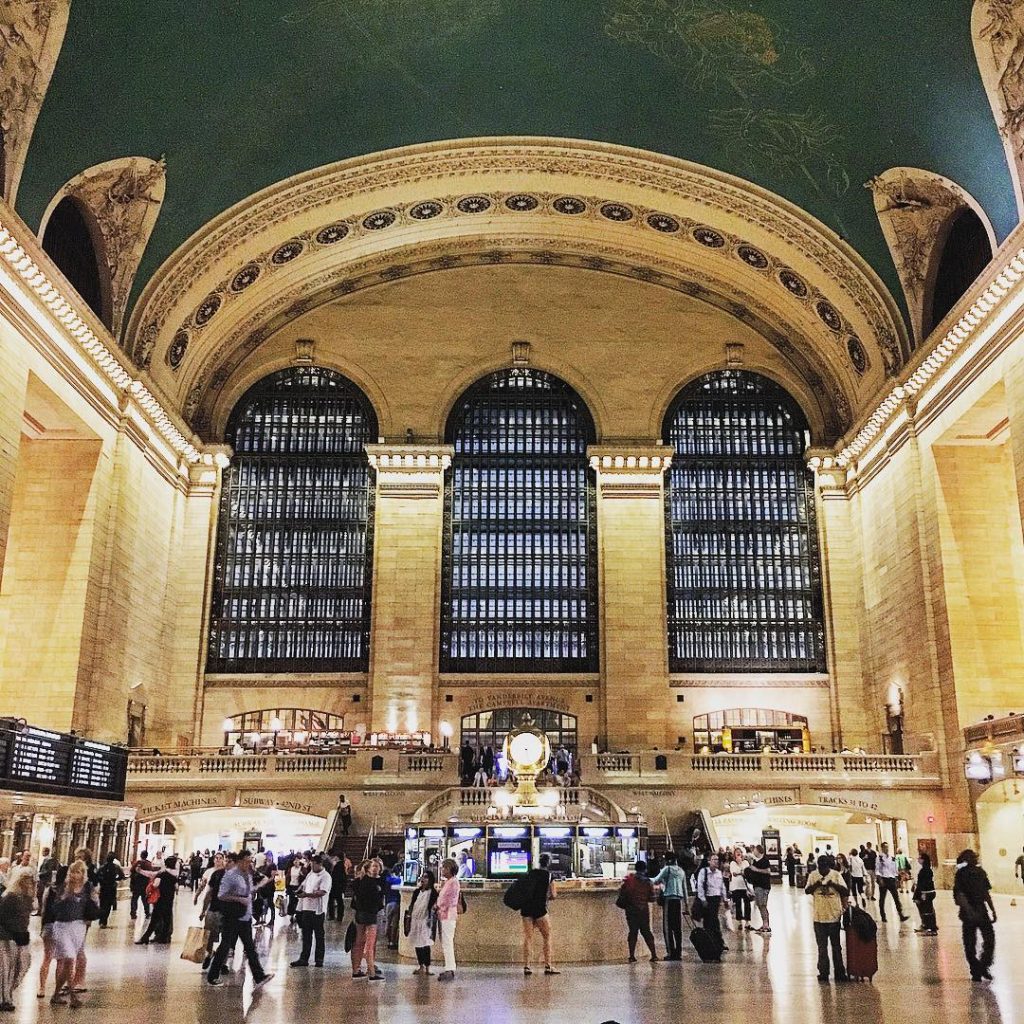 Pass by Grand Central station and relive some scenes from your favorite movies or series !
The famous station appears in many classics: La Mort aux trousse , Superman , Eternal Sunshine of the Spotless Mind , Je suis une légende , Avengers … and of course in the New York series Gossip Girl !
Address: 89 E 42nd St, New York, NY 10017, USA
5. Touch the bull on Wall Street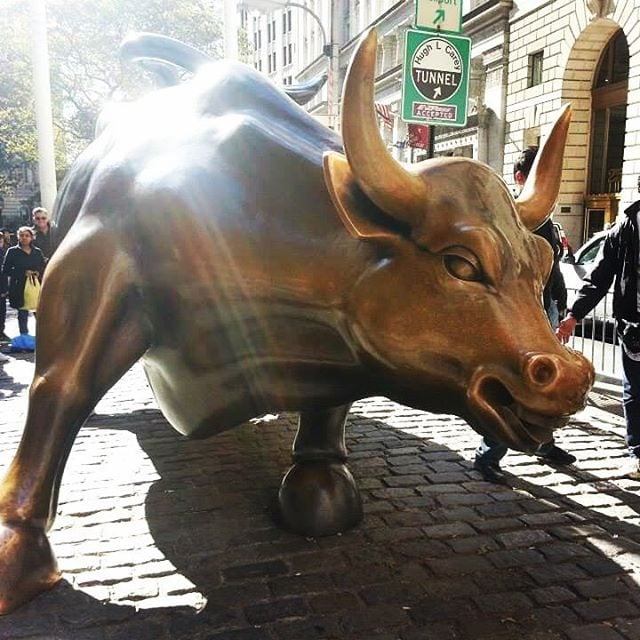 Try American superstitions and attract luck by touching the bull on Wall Street !
This imposing bull is a structure of the Italian artist Arturo Di Modica which dominates the entry of the New York Stock Exchange, installed in the wake of the stock market crash of 1987.
Address: Bowling Green Park
Take the opportunity to take a tour of the financial district and appreciate the buildings!
6. Visit the World Trade Center Memorial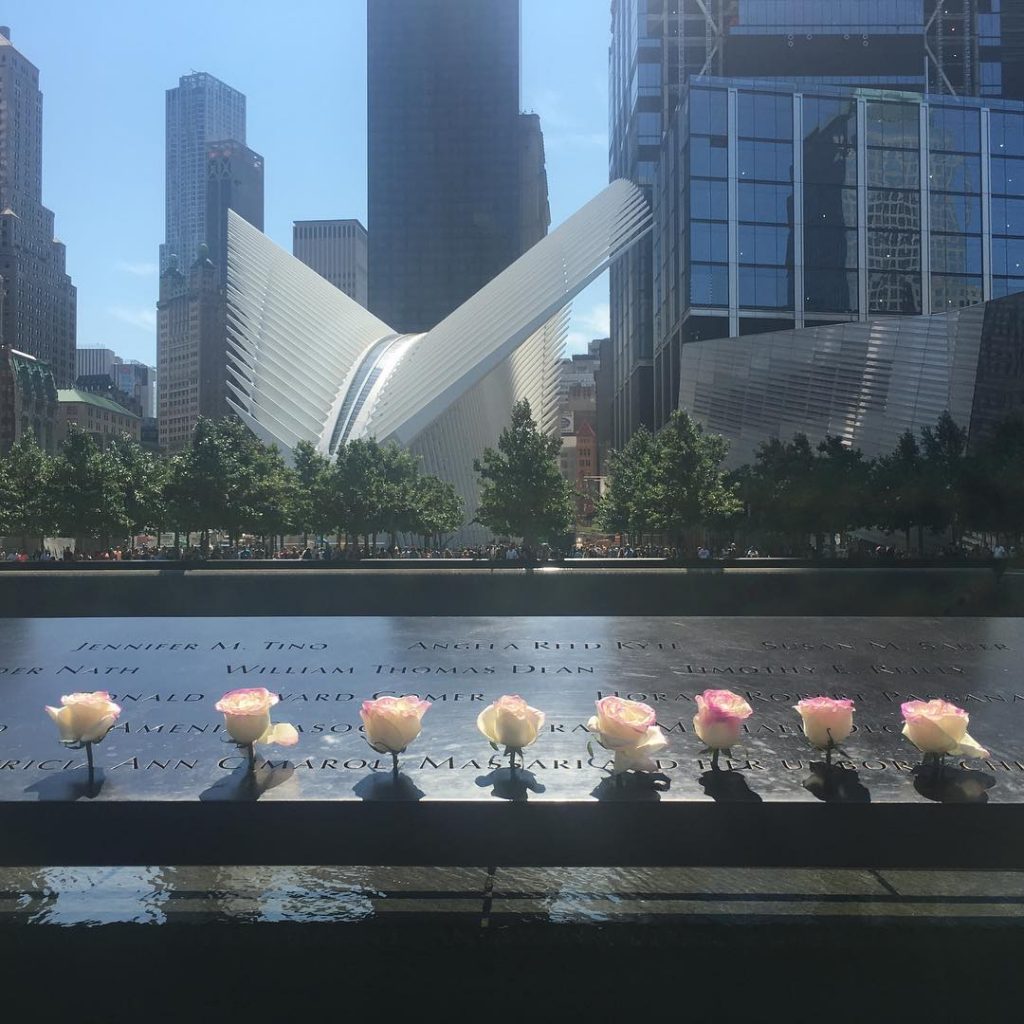 If visiting the twin towers of the World Trade Center has long been a must for tourists, today we are visiting the 9/11 memorial site .
The memorial lists nearly 3000 victims: a moving break during your visit to New York! Access to the memorial is free but the site also hosts a museum  dedicated to the victims of the attacks  : you will find pieces of the two towers, personal effects, audio recordings left by the victims, accessories and tools of the firefighters and rescuers and other items that will take you back to that day that marked the history of the United States .
Entrance fee to the museum:
18 and over: $ 26

Between 13 and 17 years old: $ 20

Between 7 and 12 years old: $ 15

Under 6: free
However, the museum is free every Tuesday between 5 p.m. and 8 p.m.
Opening hours : 
The memorial is open every day from 7:30 a.m. to 9 p.m.

The museum is open from 9 a.m. to 8 p.m. from Sunday to Thursday, and from 9 a.m. to 9 p.m. on Fridays and Saturdays.
7. Admire the view of Manhattan skyscrapers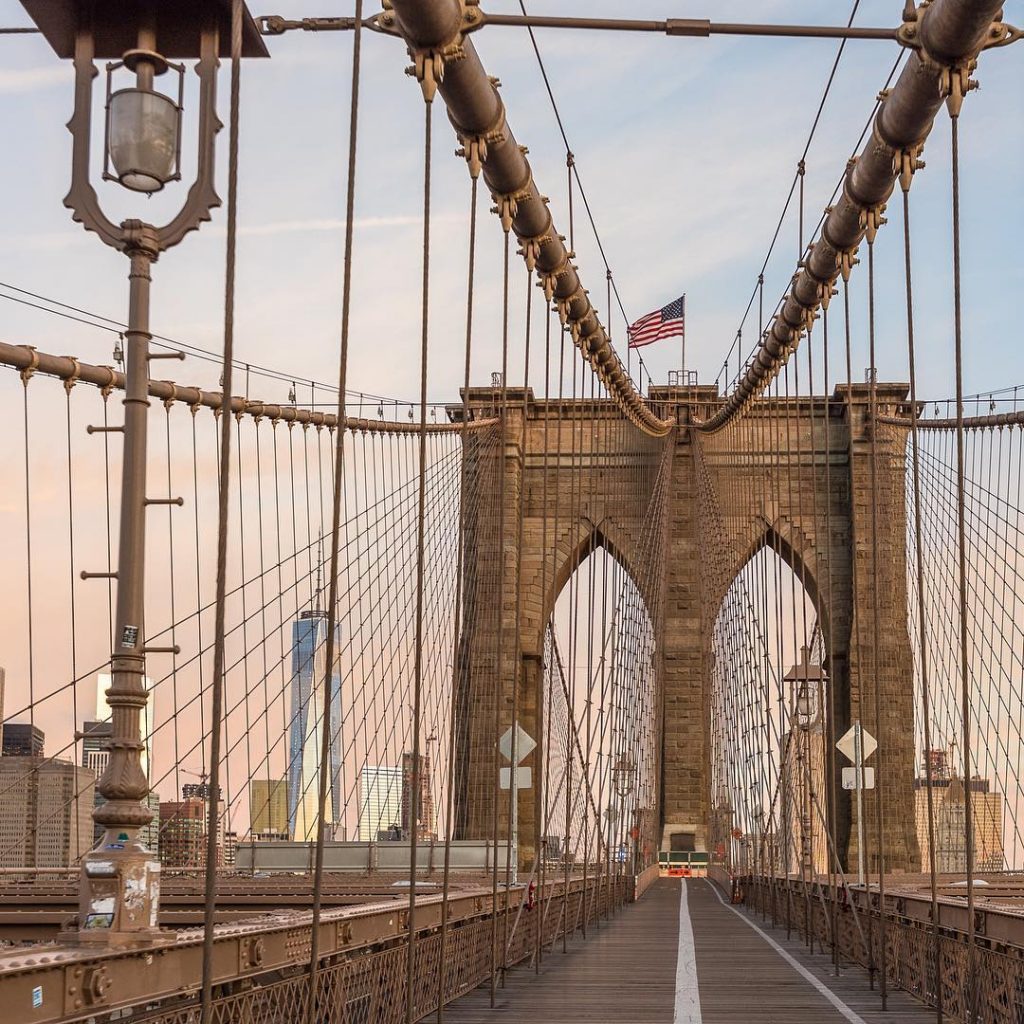 Whether you like it or not, skyscrapers will be there during your stay in New York, you will not be able to escape it!
You can admire the skyscrapers of Manhattan in the distance from the Brooklyn Bridge .
Access the bridge from Manhattan by getting off at the Brooklyn Bridge / City Hall subway station .
Small advice: for this type of deserted photos, you have to get up early!
8. Relax in Brooklyn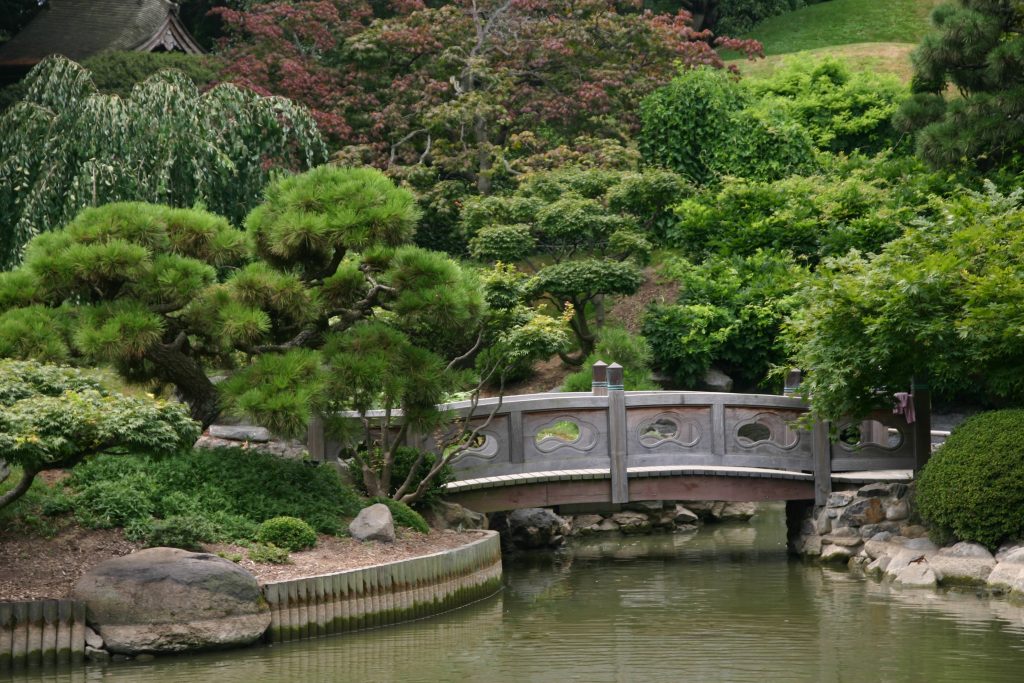 Very different from Manhattan, the vibrant borough of Brooklyn and its cheerful melting pot is full of activities.
Start by relaxing, stop in one of the charming cafes. Our suggestion: the Williamsburg district , the new trendy and hipster district !
How to get there: Bedford Av tube stop
In Brooklyn, you can also visit the Botanical Garden. It is a Japanese garden that covers 21 hectares. There you will find over 10,000 different species of trees and plants .
The visit to the Japanese garden is especially worth it between April and May , when the cherry trees are in bloom .
Hours : 
Tuesday to Friday 8 a.m. to 6 p.m.

from Saturday to Sunday from 10 a.m. to 6 p.m.
For more details on the opening days, click here !
Price: $ 15 (free for children under 12)
Pst! Good plan: access is free on Friday mornings from 8 a.m. to 12 p.m.
How to get there: Eastern Parkway metro on lines 2 and 3
9. Have a drink on a rooftop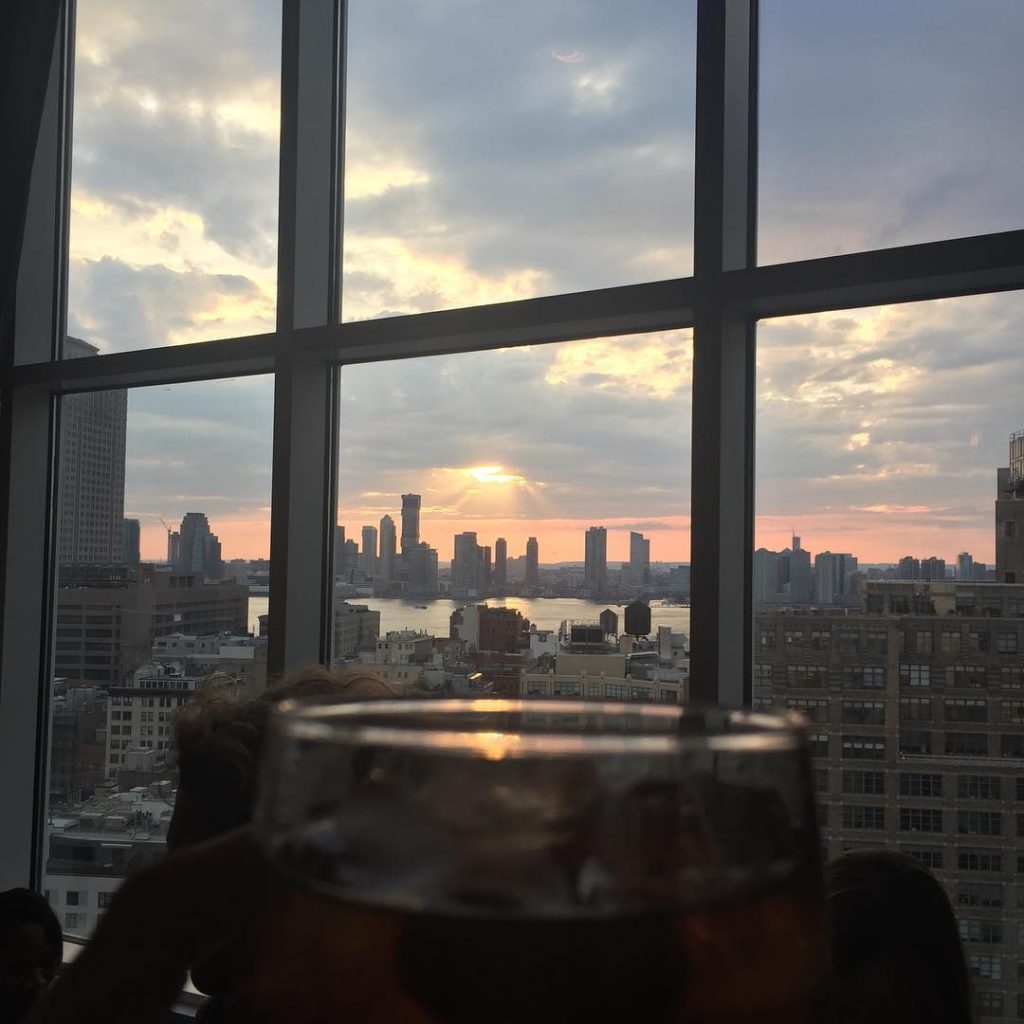 New York is a city you admire from the sky . Do not leave the Big Apple without having a drink in one of the city 's many rooftops: you will enjoy both a breathtaking view and cocktails .
Let the one who never dreamed of sipping a Cosmopolitan like Carrie  Bradshaw  throw the first stone for us!
Our recommendations:  JIMMY bar, 250 Fifth bar and Jane bar
10. Discover the inevitable Times Square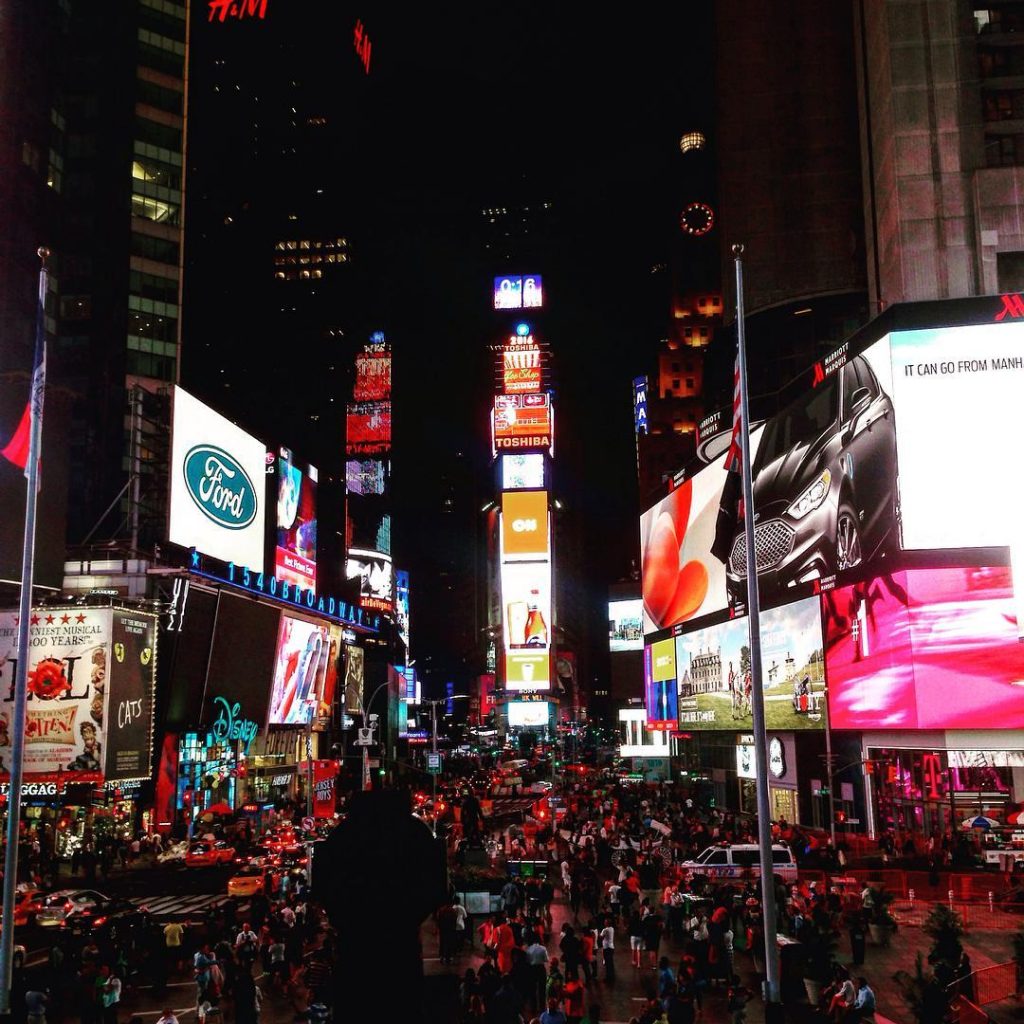 A must when visiting New York : Times Square!
We advise you to stroll through the famous district at night to feel the energy of the city in the midst of skyscrapers and lights. You will understand where New York gets its nickname "  city ​​that never sleeps  "!
11. Visit the Metropolitan Museum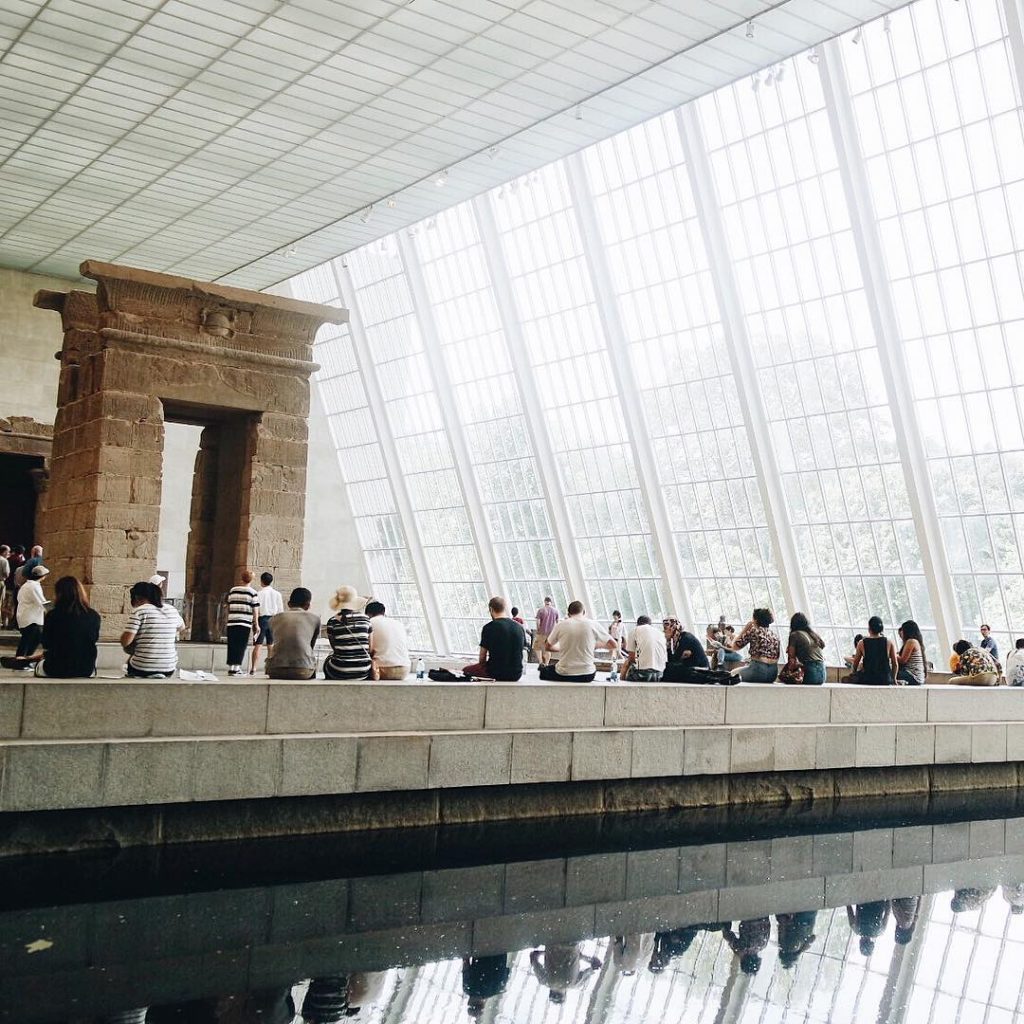 The "Met" is one of the largest museums in the world. Art lovers: don't miss it!
The permanent exhibition allows you to discover no less than 2 million works of art . A word of advice: focus on the eras that really interest you! You will find at MET the oldest building in New York: the temple of Dendur , a gift from the Egyptian government.
The access price to the MET is fixed on a voluntary basis , so you can pay what you want knowing that the recommended rate is $ 25 for adults (the price you will pay by booking online, which allows 'avoid the long queue).
Entrance is free for children under 12.
12. Enjoy the 

Manhattanhenge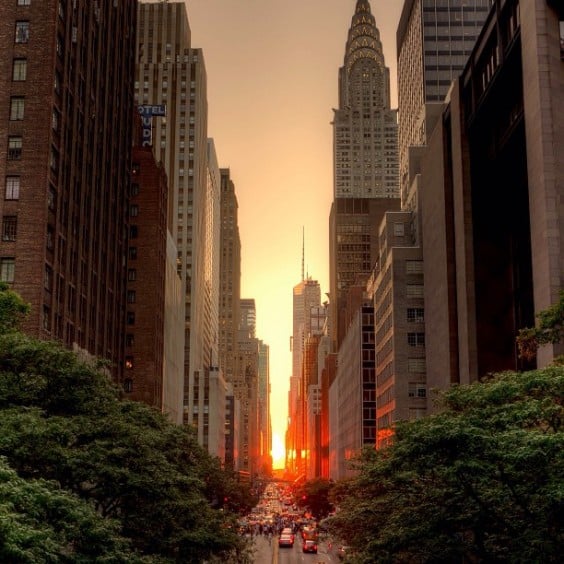 The Manhattanhenge is a very special sunset : a few days in the year, you can enjoy the setting sun in perfect alignment with the streets and skyscrapers of Manhattan .
Please note, only the lucky ones who visit New York in late May or early July will have a chance to see the show!
13. Spend a jazzy evening at Vanguard Village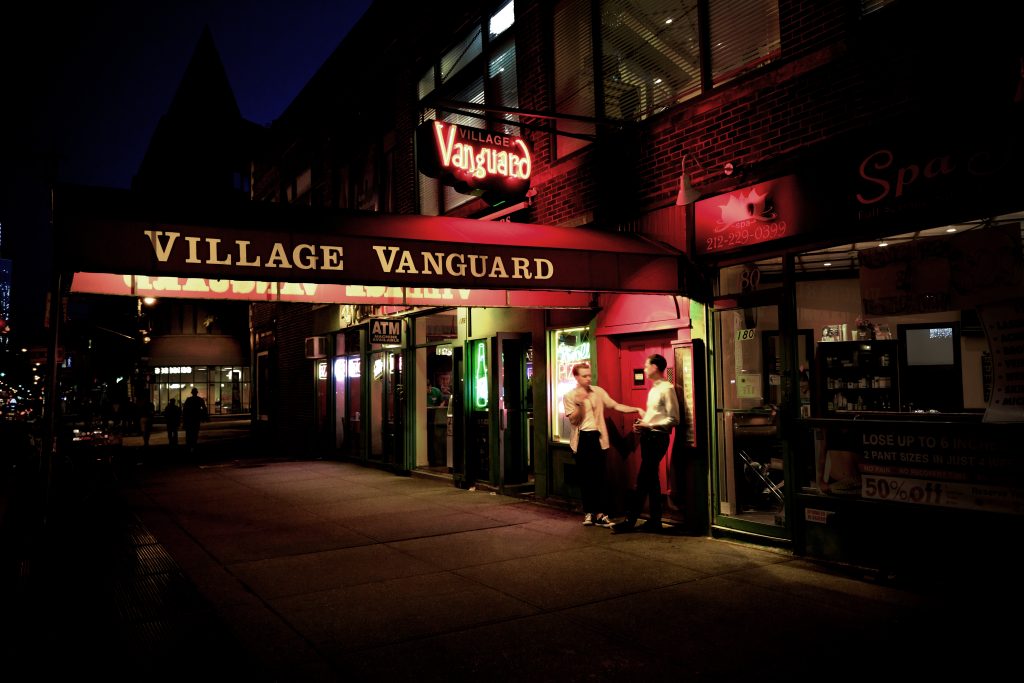 Vanguard Village is one of New York's legendary jazz clubs . Since 1935, many groups have shared the club scene in the heart of the Greenwich Village district, for jazzy evenings that will immerse you in the universe of the 1920s .
The club opens its doors every day from 7:30 p.m. to midnight.
Average price: $ 35
Address: 178 7th Ave S (at W 11th St.) New York, NY 10014
14. Attend a stand-up comedy evening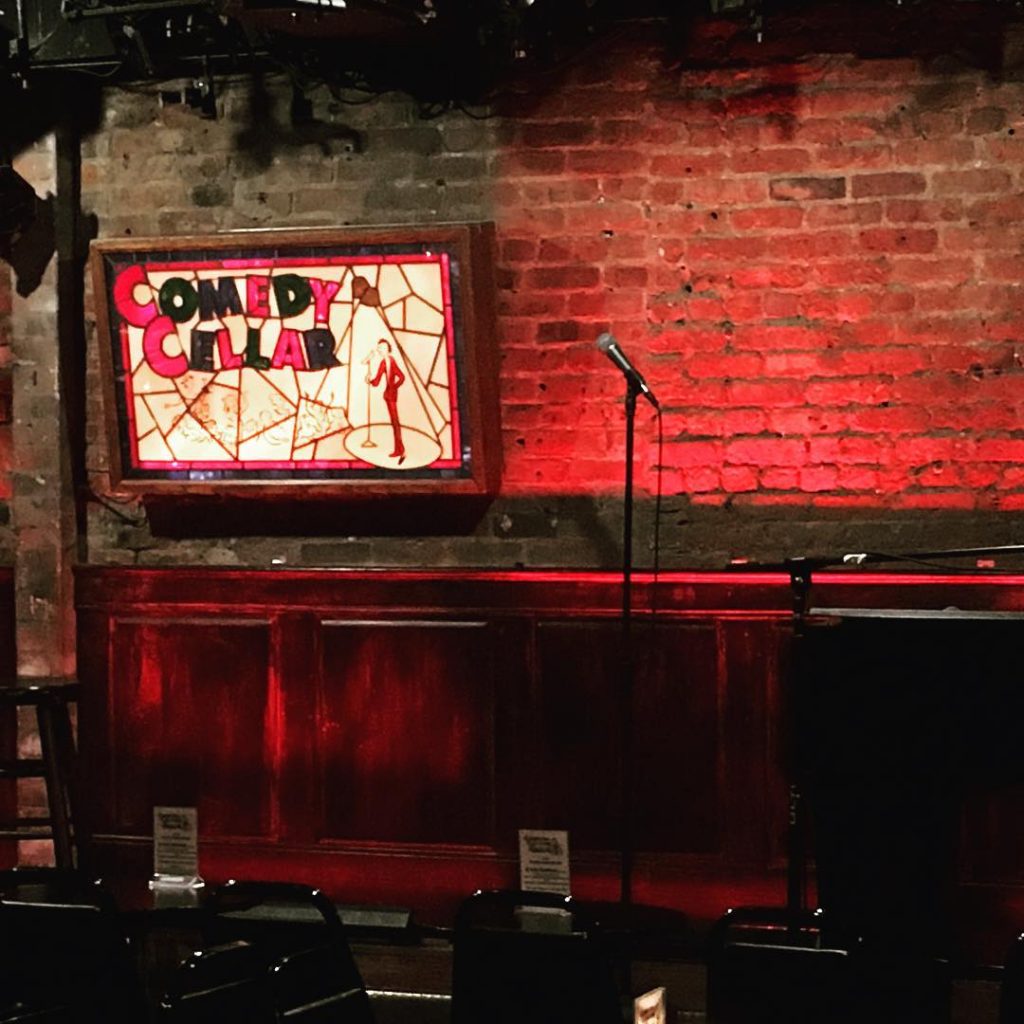 If you can manage in English, take advantage of your stay in New York to discover New York humor during a stand-up evening in a comedy club .
Our recommendation: Comedy Cellar, shows cost between $ 8 and $ 24.
Do not forget to book !
Address: 117 Macdougal St # 1267, New York, NY 10012, USA
15. Go ice skating in Central Park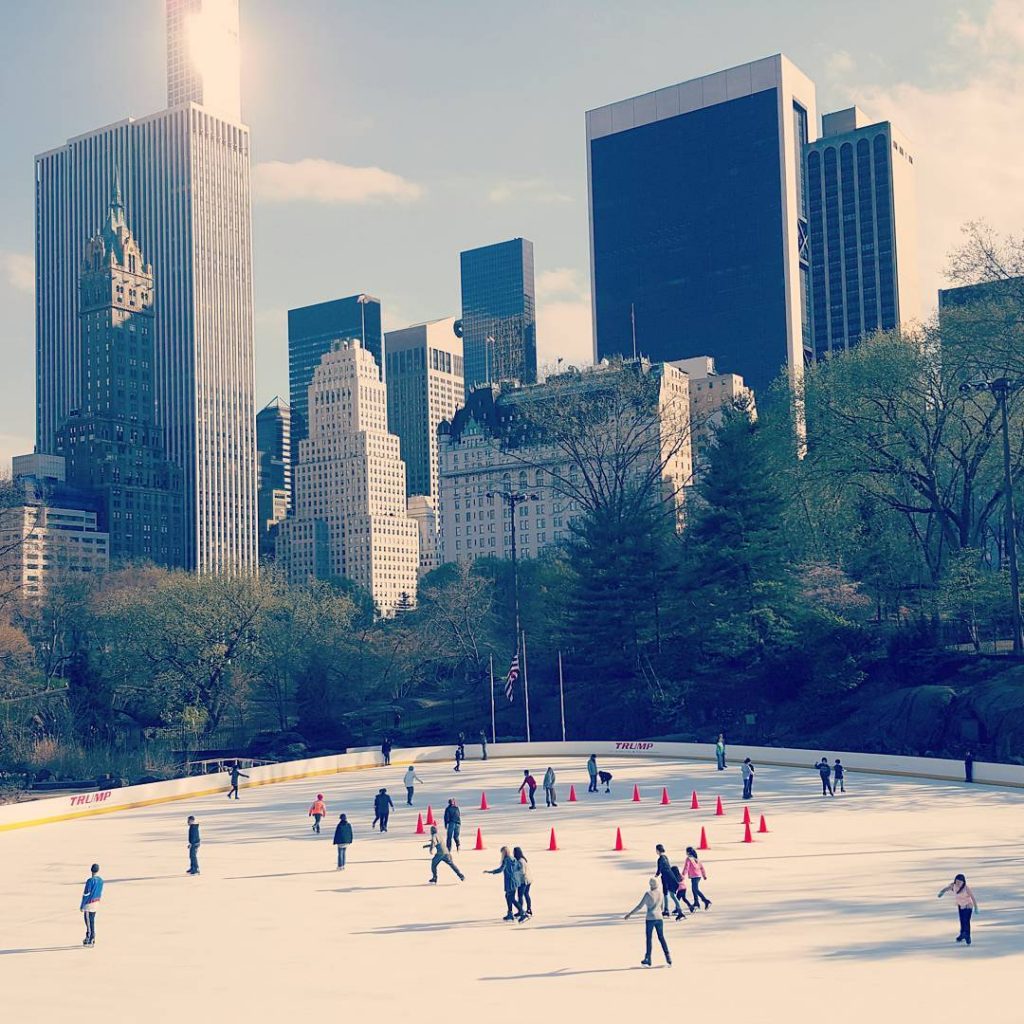 If you're traveling to New York between October and April , you can try your hand at ice skating  at Wollman Rink in Central Park . The rest of the year, you will find an amusement park for children.
Opening time : 
Monday-Tuesday from 10 a.m. to 2:30 p.m.

Wednesday-Thursday from 10 a.m. to 10 p.m.

Friday-Saturday from 10 a.m. to 11 p.m.

Sunday from 10 a.m. to 9 p.m.
Rate :
$ 12 weekdays and $ 19 Friday, weekends and holidays

$ 6 for children under 11 every day
16. Watch an NBA basketball game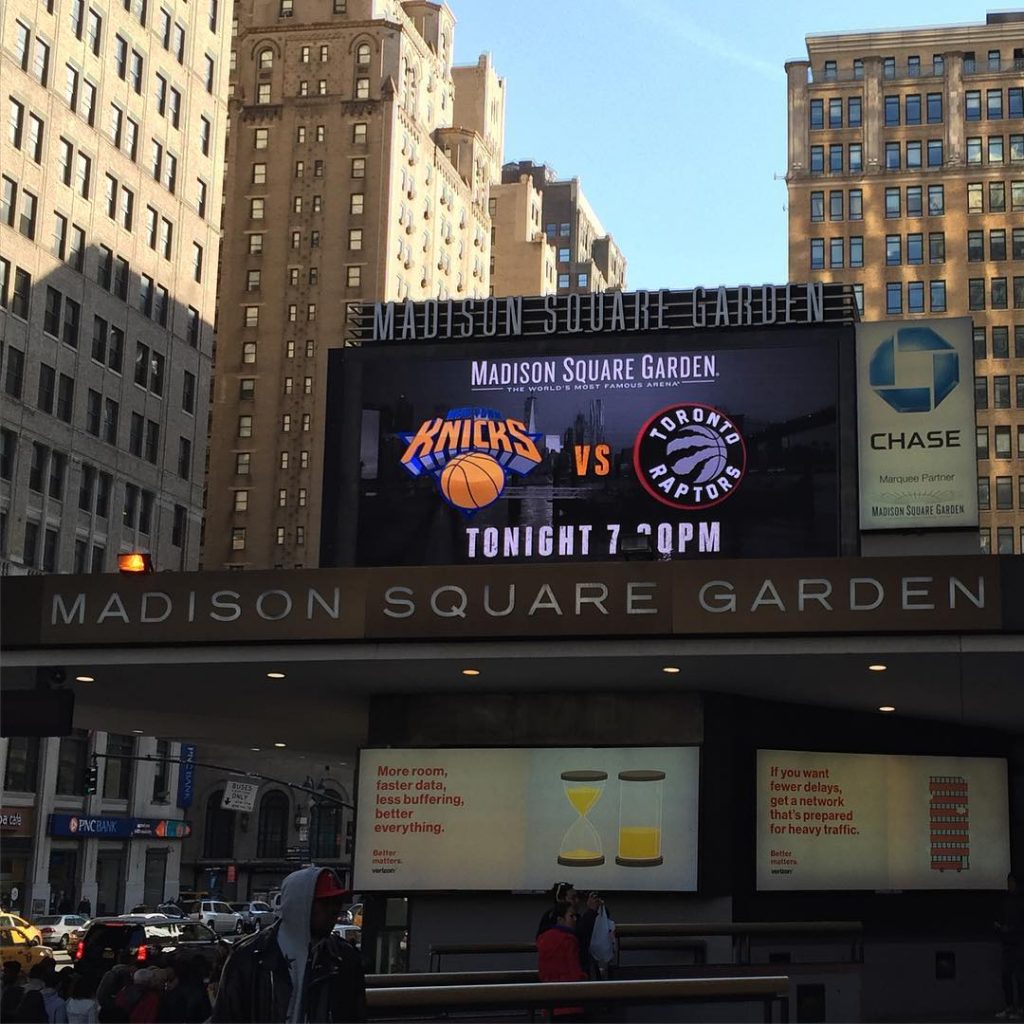 You can find online tickets on average from € 35 to see the New York Knicks play at Madison Square Garden ! The famous arena can accommodate up to 20,000 supporters.
Do not panic for small budgets: even with the stadium seats furthest from the field, you will be taken by the energized atmosphere !
Address:  4 Pennsylvania Plaza, New York, NY 10001, USA
17. Visit Chinatown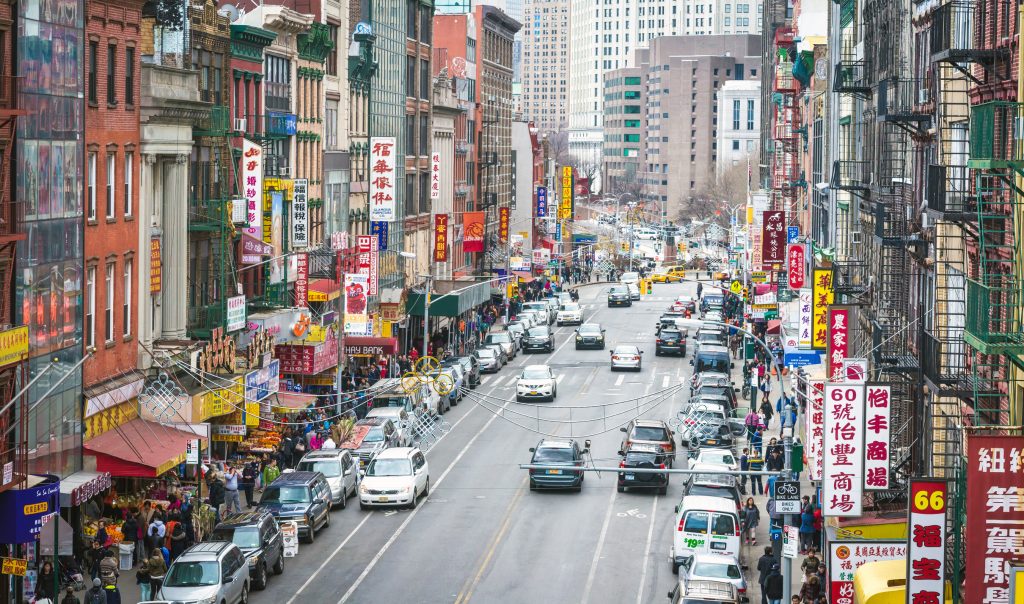 New York City is a microcosm by itself. Strolling through the streets of southern Manhattan, you can cross the "border" and dive into a completely different environment thanks to the Chinatown district . You will discover a lively and completely exotic district.
The best time to soak up the atmosphere is in the morning , but come back for dinner to taste a succulent sesame chicken !
How to get there: Canal Street subway station (line 6)
And if you are looking for a change of scenery in the heart of Manhattan , you can also opt for the Italian district: Little Italy is waiting for you !
18. Go kayaking on the Hudson.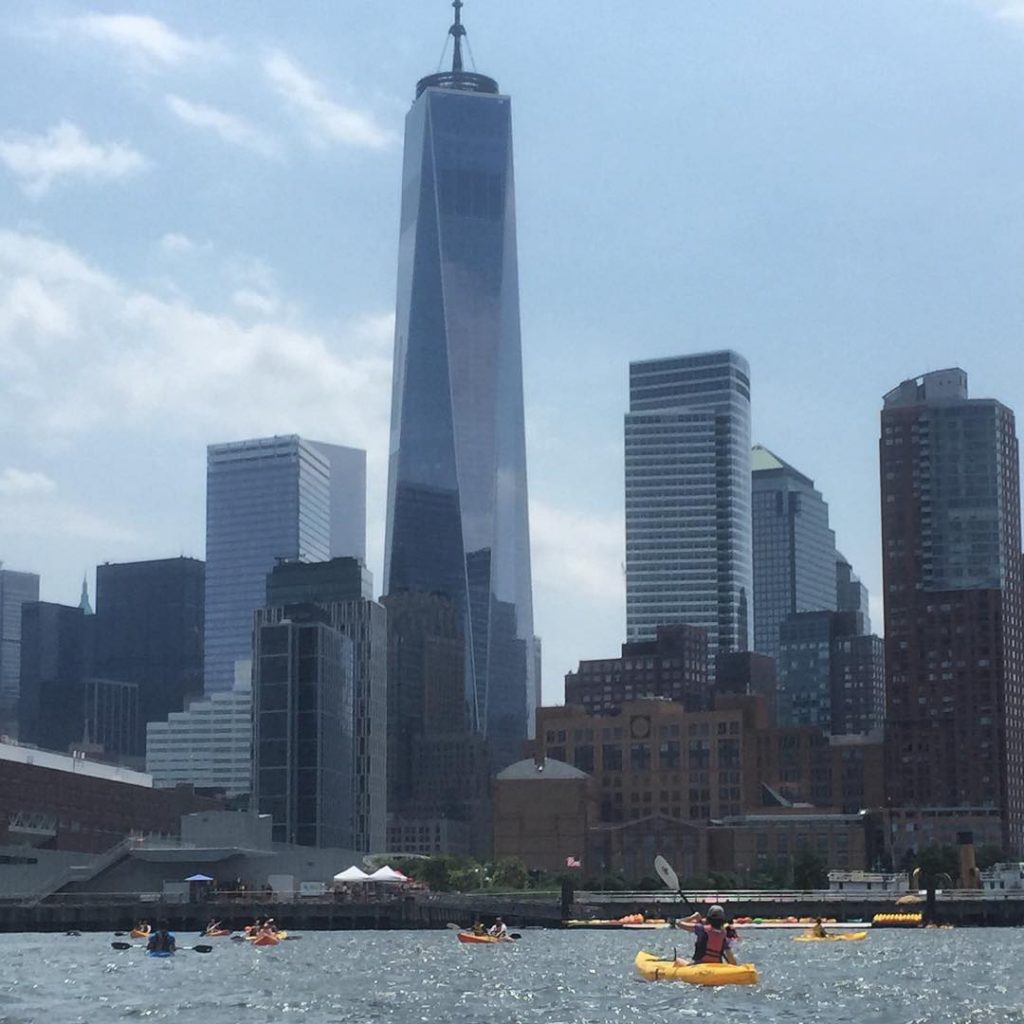 For those interested, get close to Pier 26 . The Downtown Boathouse lets you try your hand at kayaking on the Hudson for 20 minutes, for free!
Free sessions are available:
Weekends and holidays from May 19 to October 8 (9 a.m. – 4:30 p.m.)

Tuesday / Wednesday / Thursday from June 19 to September 13 (5:30 p.m. to 7 p.m.)
Forward! Take a ride on the river that made Chelsey "Sully" Sullenberger, the pilot who emergency landed on the Hudson in January 2009, famous.
19. Stop at Union Square Greenmarket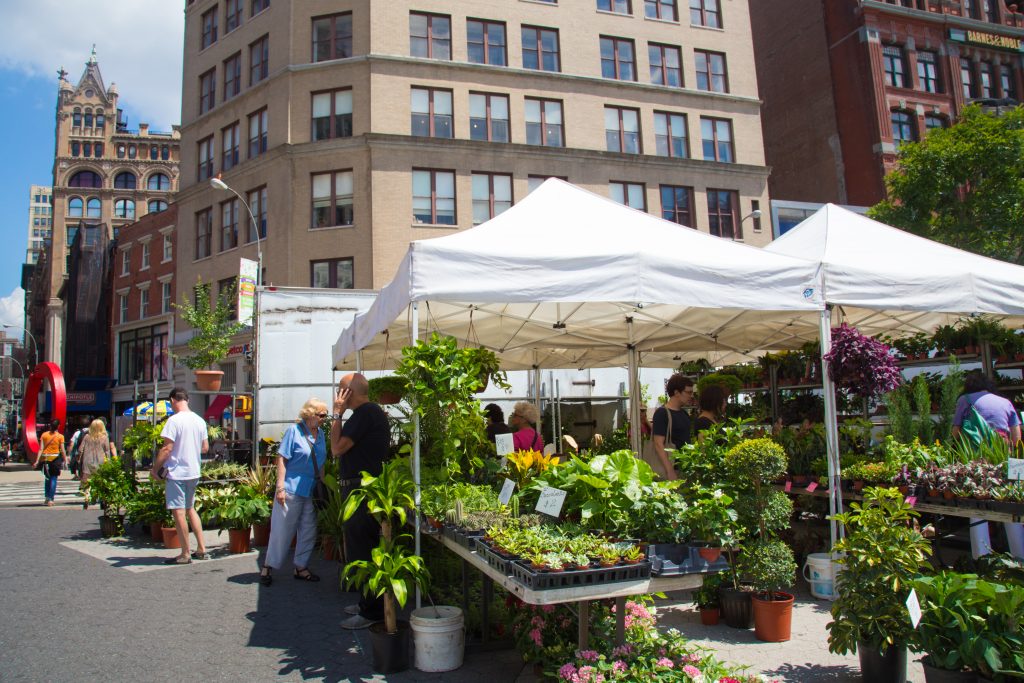 If you want to refuel without stopping at the restaurant, take a ride through Union Square Greemarket  !
This market hosts more than 140 local producers . Fruits and vegetables, bread, honey, maple syrup and even plants: you will find everything! The little extra thing? Many products are organic .
Market days  : Monday, Wednesday, Friday, Saturday
Hours : 8 am-6pm
Address: E 17th St &, Union Square W, New York, NY 10003, USA
20. Taste the burgers of the American chains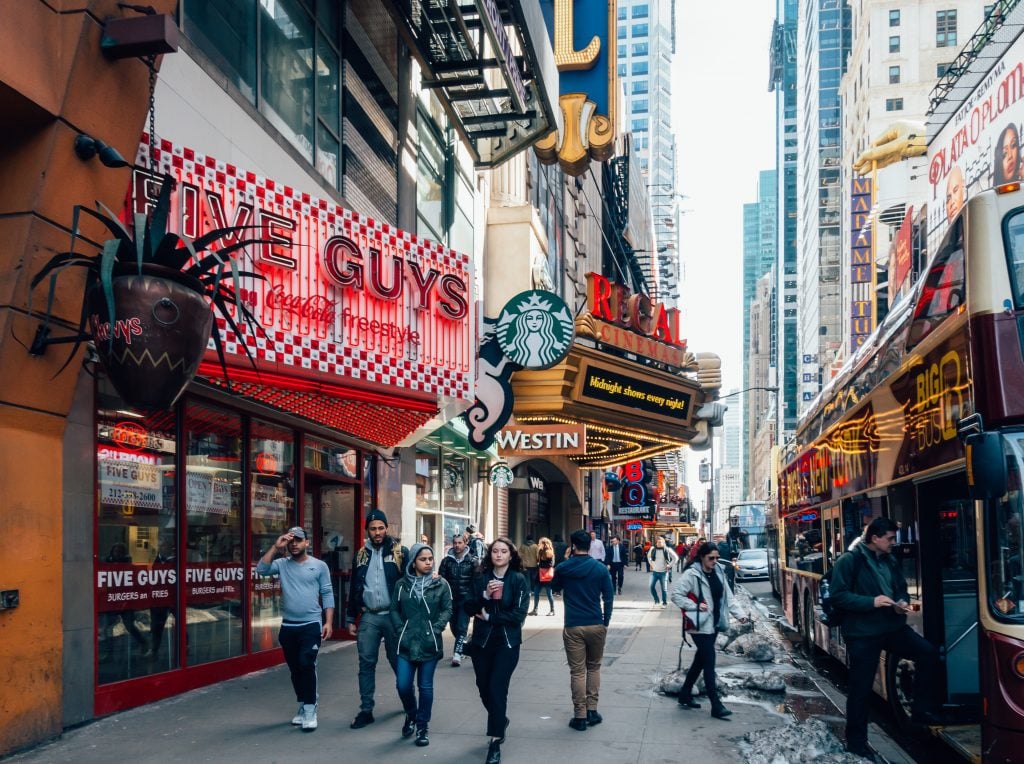 If it's not yet, tasting the burgers of the American chains is a must during your stay in New York.
You will be spoiled for choice . Maybe even a little too much! Fortunately we have some recommendations to help you … For a good cheeseburger, go for Five Guys or Shake Shack. And don't forget: a burger in New York comes with a milkshake !
You can also try one of the many typical  city dinners to feel like Mia Wallace in Pulp Fiction 😉 The Joe Junior is excellent, even for breakfast!
21. Do an art circuit in Chelsea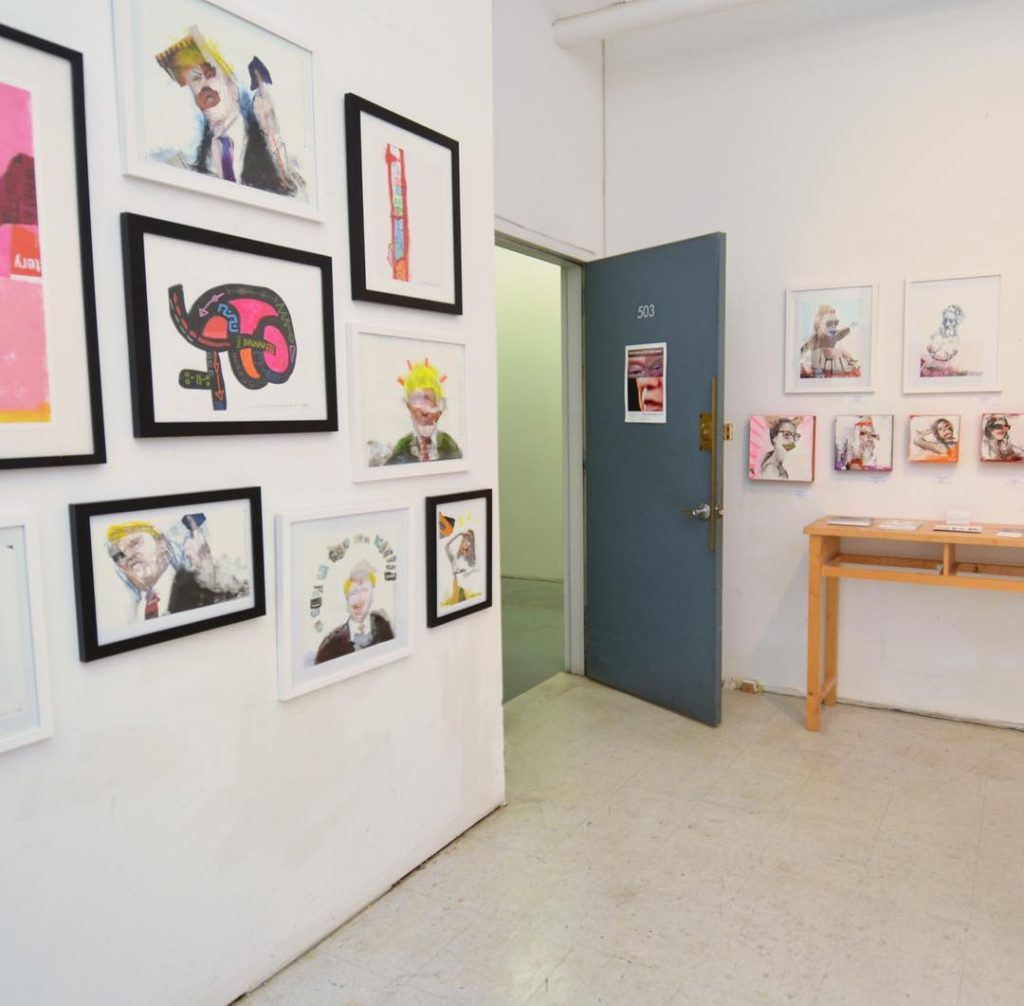 You may not have known it, but Chelsea is a neighborhood full of art galleries in lofts or in old, disused factories.
An unusual and fun concept for art lovers ! Direction the 10th and 11th avenue which gather many of these famous galleries.
22. Experience nocturnal Manhattan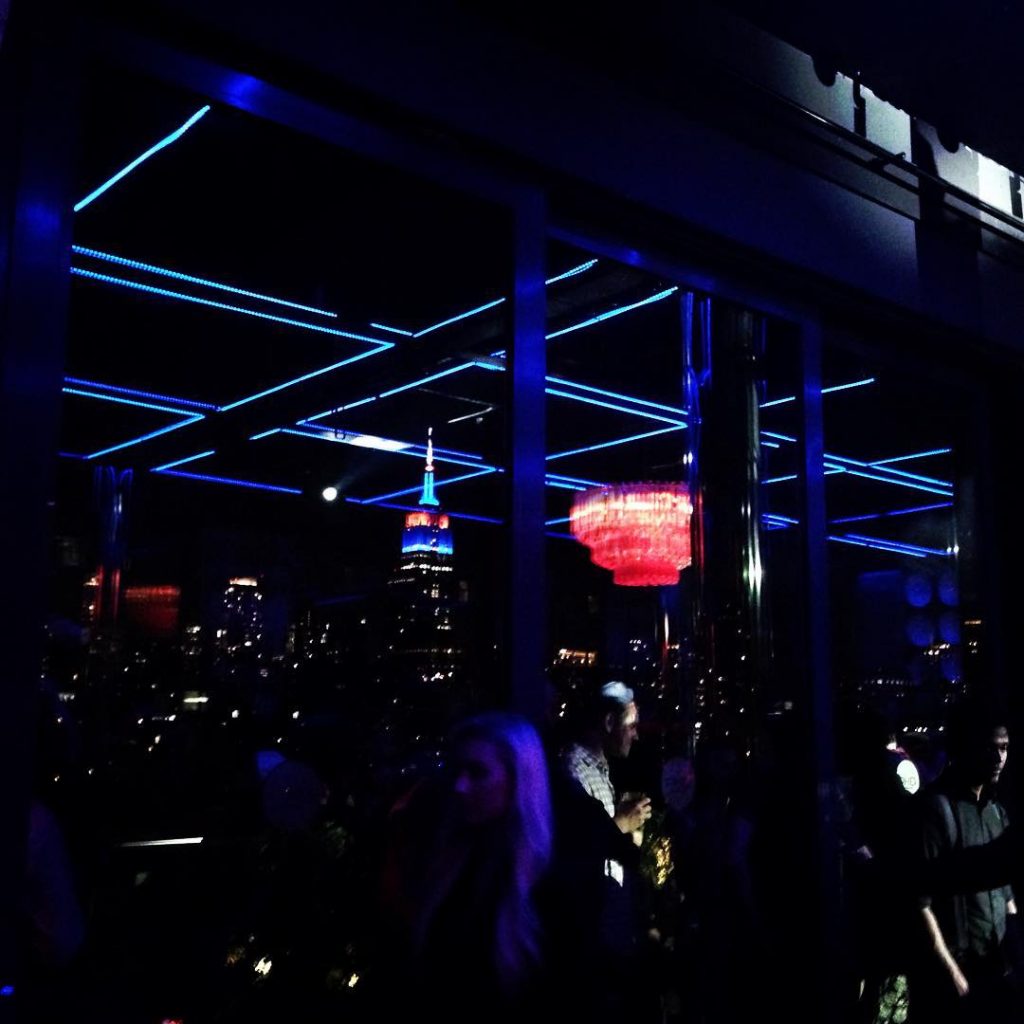 Like New Yorkers, go out in the Meatpacking district : restaurants, bars and trendy clubs galore!
Here, your evenings will rise ! If you are visiting New York, enjoy the view of the PH-D, the rooftop bar / club at the Dream hotel , and the Bain, the nightclub at the top of the Standard .
23. Plan an afternoon at Coney Island Beach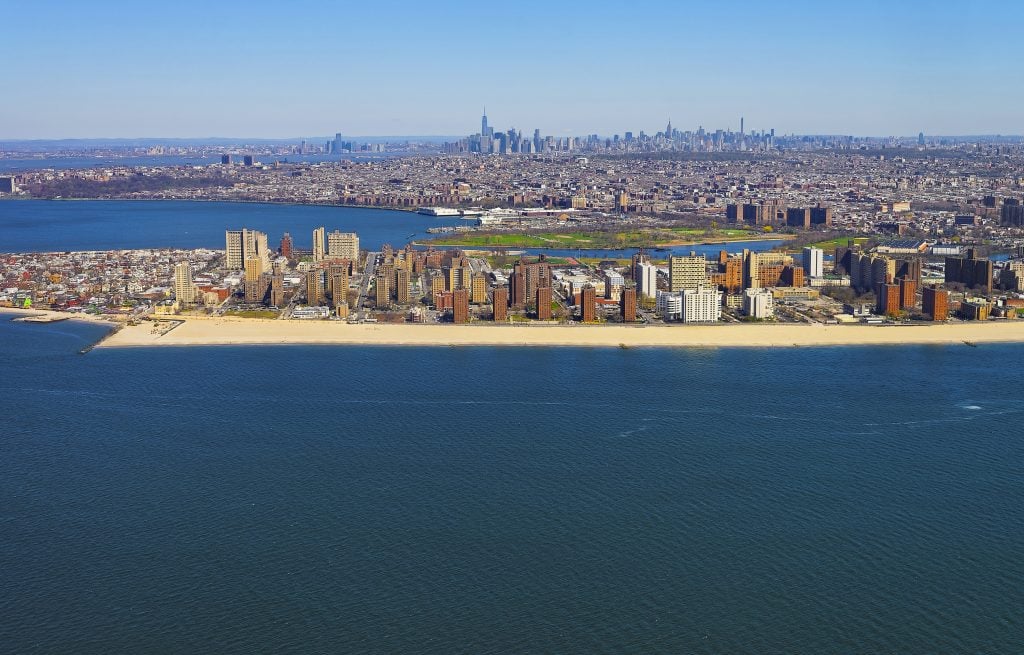 If the sun is out, head to Brooklyn ! Plan an afternoon at Coney Island Beach. In addition to the beach, you will find an amusement park and for food cravings, you can taste Nathan's famous hot dogs .
One of the most popular beaches on Coney Island is Brighton Beach : it's also the area known as Little Russia , where you will find many Russian and Ukrainian bars and restaurants.
How to get there :
by subway, lines D and N (Coney Island – Stillwell Avenue stop)

by train, lines Q and F
24. See a musical on Broadway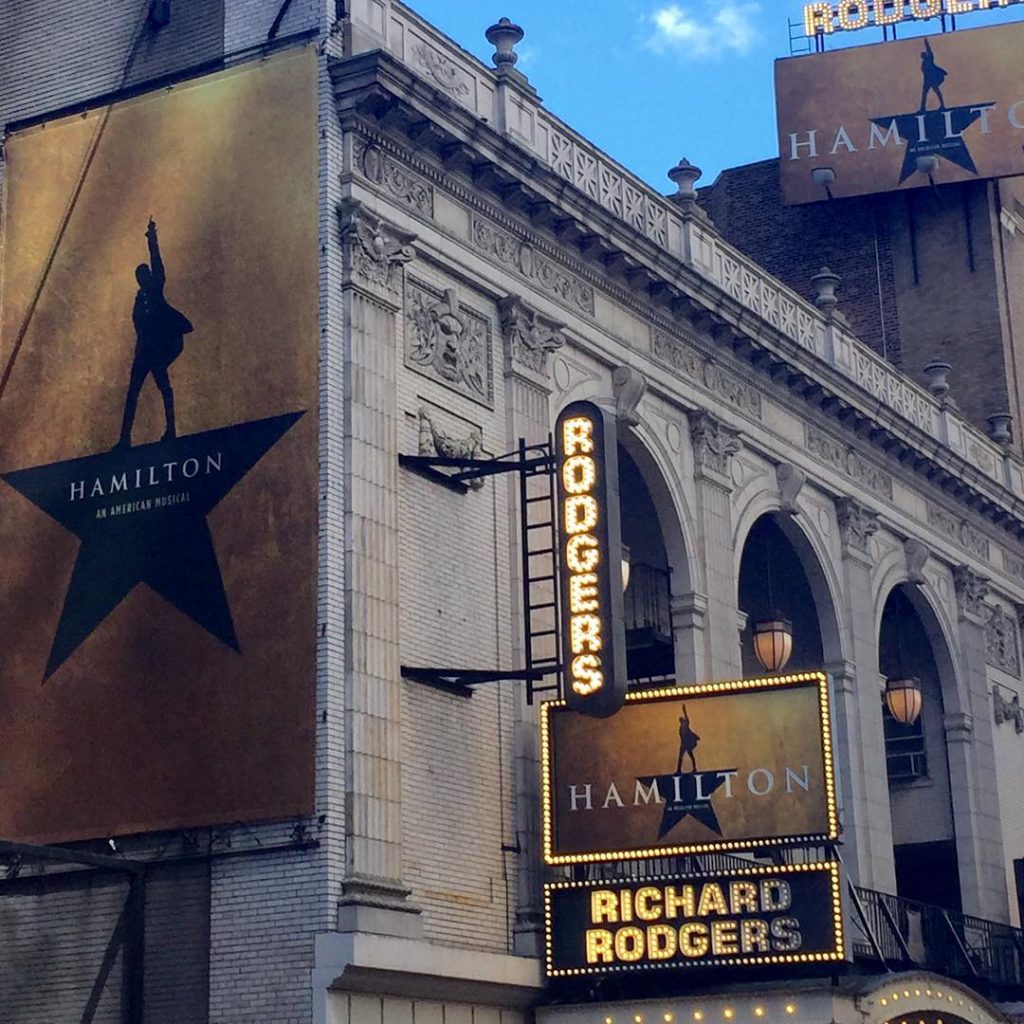 You can't visit New York without enjoying a Broadway musical . Unmissable!
Watch the weekly program and come in the morning to buy last-minute tickets for less than $ 100. You can also book your tickets in advance to save a few dollars.
25. Go shopping!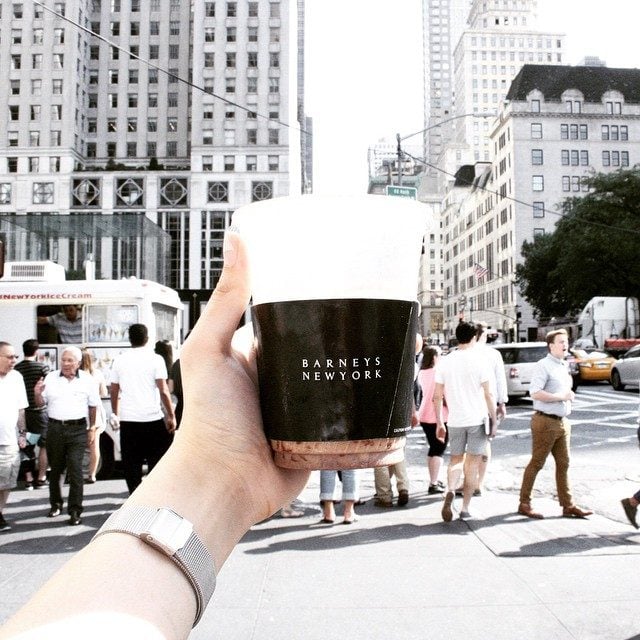 How to make a top of the things to do during your visit to New York without mentioning shopping ?
You will find what you never find in Europe ! You can also buy designer clothes that you know well at lower cost in the outlets of the city and its surroundings.
So, ready to pack your bags? eDreams gives you a little boost: take part in the #eDreamsComeTrue contest and win up to 5000 € for your next trip!
Click here to find out more.
Are you still looking for inspiration? Check out our guides to the best things to do at:
Milan: 25 things to do in Milan

Istanbul: Istanbul: 20 unmissable experiences!
Barcelona: Barcelona: 30 things to do like the locals!
London: Keep calm and… go to London! 25 things to do!
Porto: 25 things to do in Porto!
Paris: Top 25 things to do in Paris
Berlin: Top 30 things to do in Berlin!