Few people have the privilege of staying in an apartment within walking distance of the most famous tourist sites in the world! In New York, there are plenty of them, from the Empire State Building to the Rockefeller Center via Central Park. But in a city where each district brings its personal touch, some of the apartments really stand out from the rest. Once installed in one of our top 10 locations, New York will be your playground.
1. 2-room apartment in Harlem district – L'Apollo Theater
What makes this rental unique is its lively and eclectic decoration!
Harlem, which is a large neighborhood in Uptown Manhattan, has always been considered a musical and artistic center. With this furnished apartment, you will be very well located near the Apollo Theater, where celebrities like James Brown, Ella Fitzgerald and Jimi Hendrix got their start and wowed audiences. Even today's artists, like Kevin Hart, play here, so it's truly the place to attend a concert during your stay. Located on the ground floor of a 1901 brownstone, this New York furnished rental has a security system, a west-facing garden and a bathtub where you can relax after a long day. of visits. This rental is perfect for avoiding the crowds and enjoying an evening at home or going out and immersing yourself in the history and culture of Harlem.
2. Duplex T3 apartment in the Upper West Side – Central Park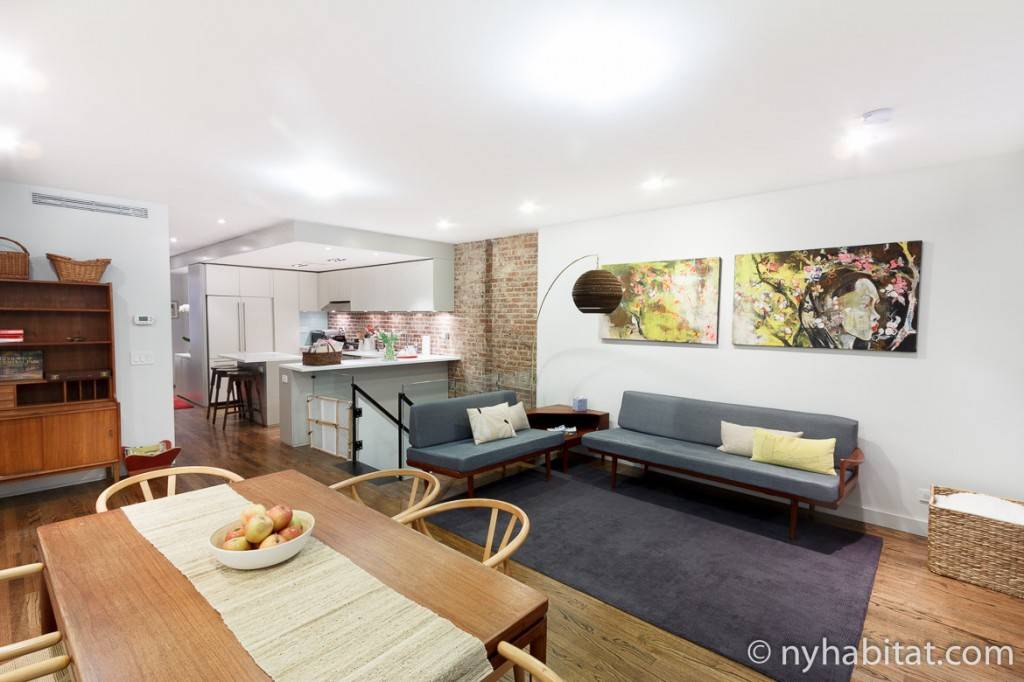 This refined decoration consists of a palette of dark colors and elegant parquet floors.
The Upper West Side, which is an affluent residential area, is located between Central Park and the Hudson. By renting this T3 apartment located in a brownstone without elevator, you will enjoy all the advantages of a quiet area with easy access to the best attractions in the city, like Central Park, just one block away! This duplex vacation rental is equipped for 5 adults and 2 children, perfect for families wanting to stay in an excellent area for an unbeatable price. Here you will have a videophone, a private and fenced garden including a picnic table as well as a washing machine and a dryer for supreme comfort. You will be happy to enter this spacious apartment with many very useful amenities.
3. Studio T1 in the Upper East Side – Museum Mile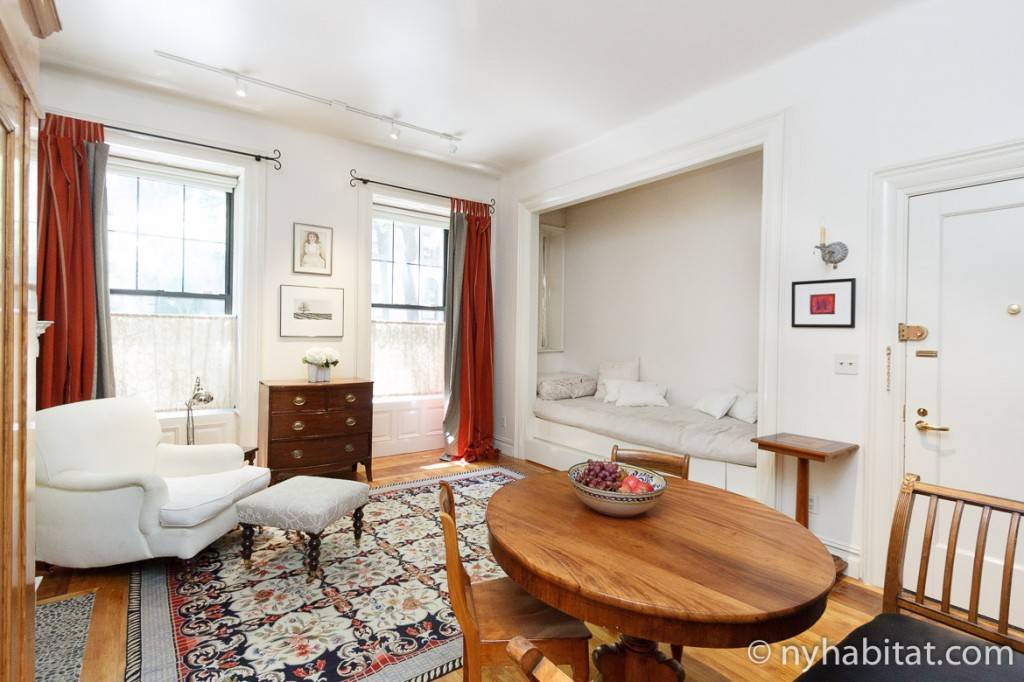 You can relax by the window in this beautiful Upper East Side studio.
If you want to enjoy the hustle and bustle of Midtown without facing the crowds that go with it, this studio on the Upper East Side is just what you need! Even though it is one of the most upscale neighborhoods in New York, the area still has many things to do that are not necessarily aimed at the wealthy and famous. For example, the Museum Mile is a part of 5th Avenue where there are several museums and other cultural institutions, such as the Metropolitan Museum of Art and the Guggenheim. 
This spacious studio is located a few meters from a metro station, ideal for exploring other parts of the city during your stay. It is located on the first floor (the equivalent of the ground floor in Europe) of a building dating from 1930 with elevator, which turns out to be very practical since you do not have to carry your luggage on several floors . In the building there is also a washing machine and a videophone for added security. The biggest advantage of this furnished studio is the relaxing and spacious living room as well as the proximity of the apartment to the essentials of New York such as delis, cafes and restaurants.
4. T2 apartment in Midtown West – Times Square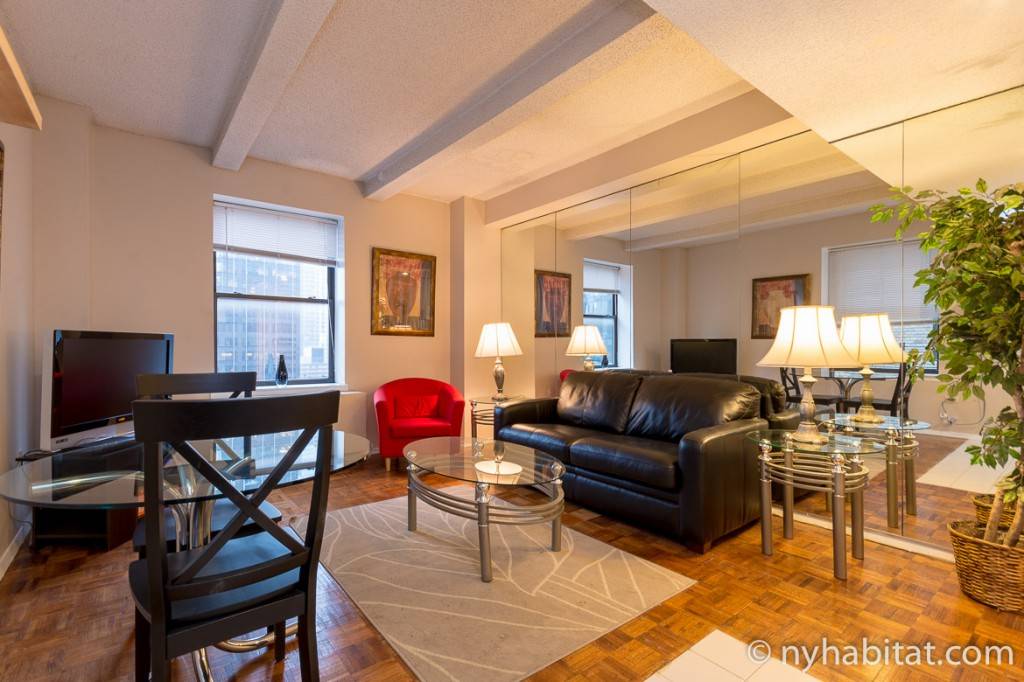 This apartment is as chic as the neighborhood it is in.
In New York, nothing else compares to the hustle and bustle of Midtown, where the city never really sleeps. Located in a luxurious tower equipped with a gym and a laundromat, this T2 apartment is the place to stay thanks to its kitchen and its elegant and modern living room. From the window, you will have a breathtaking view of the surrounding skyscrapers of Midtown, just as impressive as the apartment itself. You will succumb to the charm of performance halls, since this rental is close to Broadway near Times Square , which is one of the most famous tourist sites in the world. You will also be a few meters from several metro stations which will allow you to move easily.
5. Furnished studio in Midtown East (Murray Hill) – Bryant Park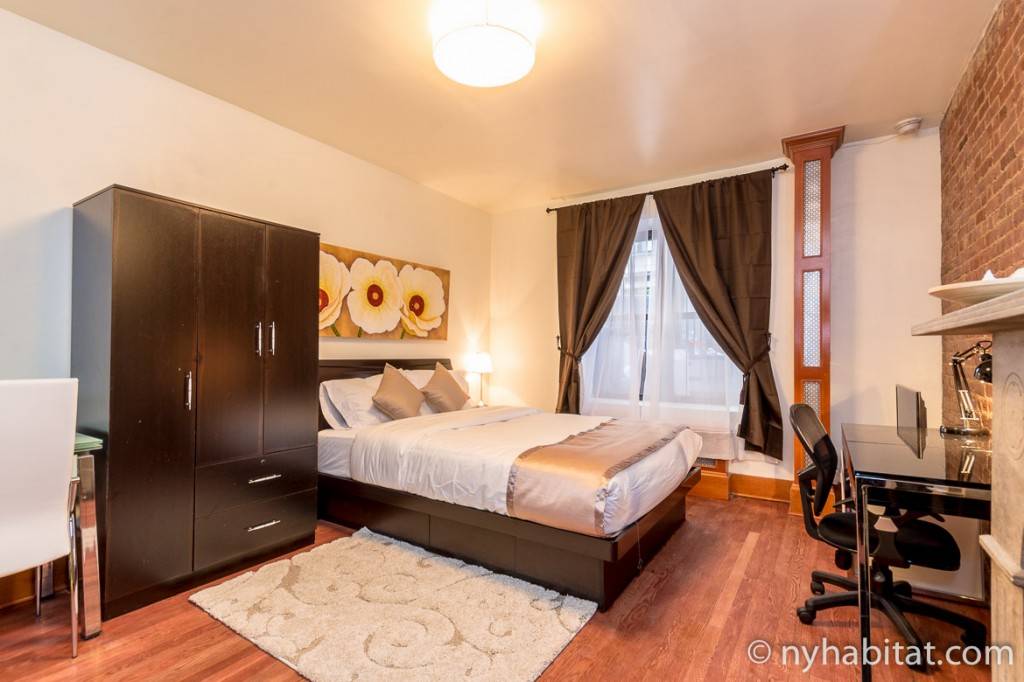 You can easily imagine waking up in this studio in Midtown
A quintessential New York stay includes shopping , dining, and sightseeing. You can do all of this and more, especially if you stay at this furnished studio located in the middle of Midtown East . It has floor-to-ceiling windows, so the room is bathed in sunlight, a fireplace, and even a desk in the living room in case you need to work during your stay.
Walk down Fifth Avenue and you'll find yourself in the middle of famous names: Tiffany's, Saks and Bloomingdales. Beyond the shopping cure, the Midtown East district offers other things to see like Bryant Park (just a few minutes walk!), Which hosts the annual Winter Village (a great place to find unique, handmade gifts), and allows you, in the spring, to sit on a beautiful green lawn to relax and admire the beauty of the reborn city.
6. T2 apartment in Greenwich Village – "Friends" building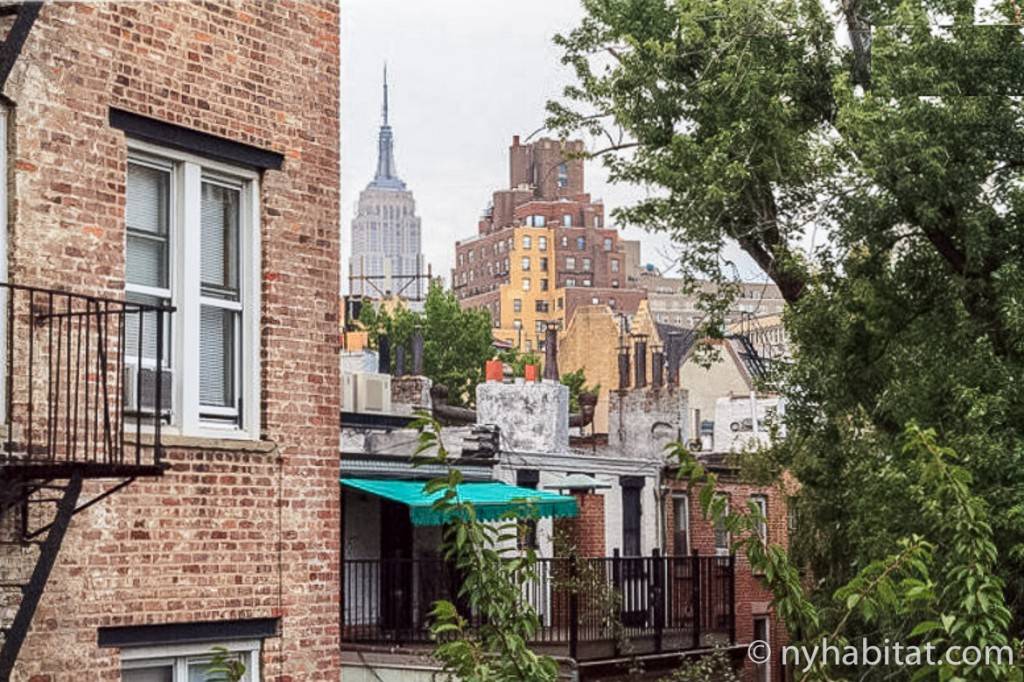 You can sometimes have the impression that the West Village district comes straight out of a film.
West Village is the neighborhood of Manhattan that we see most often in movies and on TV, and it is not for nothing, its magnificent landscapes and its wide choice of restaurants will make you want to stay there. This furnished rental located in the heart of the West Village offers not only nearby metro stations and streets where the lovely brownstones are lined up, but also a fireplace and access to renowned restaurants in the area. In addition, you can easily walk to the intersection of Grove Street and Bedford Street, where the famous "Friends" building is still located. Stay in this apartment and leave with a photo of where Ross, Rachel, Joey, Phoebe, Chandler and Monica had some funny moments.
7. Apartment T3 in the Financial District – One World Observatory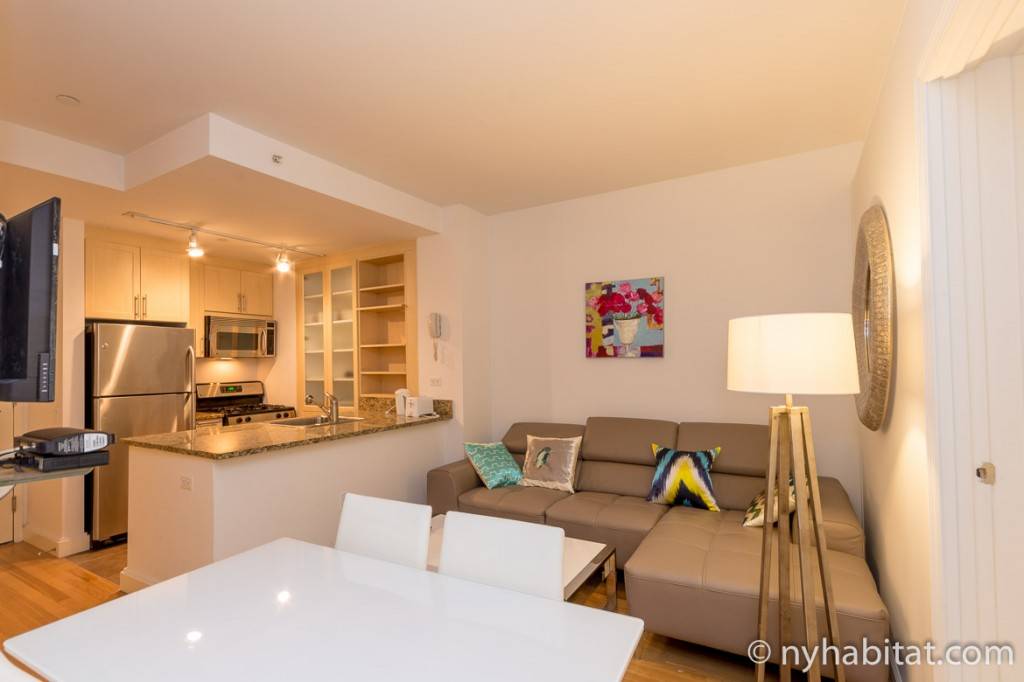 The Lower Manhattan district sees its tourist sites reborn.
In this fully furnished rental in the Lower Manhattan district, you will find yourself in the midst of skyscrapers with architecture dating back several centuries but also modern, chic and elegant buildings. Indoors, this T3 apartment has an additional large Queen bed near the living room to accommodate up to 6 people in total. This could be a very good choice if you are traveling with a large family or a group of friends. In this luxury apartment you will find an open kitchen, plenty of storage space, a washing machine and a tumble dryer. In addition, the building even has its own gym, which will certainly not make you want to get out, but we do not recommend it! Just a few blocks away is the One World Observatory, where you can board an elevator that gives you an accelerated tour of Manhattan and breathtaking views of New York from the tallest tower in the Western Hemisphere. For dining, you have a wide choice, and interactive activities are at your disposal to keep you occupied for hours. Thanks to its location in the busy Financial District (often known as the birthplace of American skyscrapers), the magnificent tourist sites nearby and the high-end amenities it has, this apartment is the perfect place for a stay in New York.
8. T2 apartment in Williamsburg – Brooklyn Brewery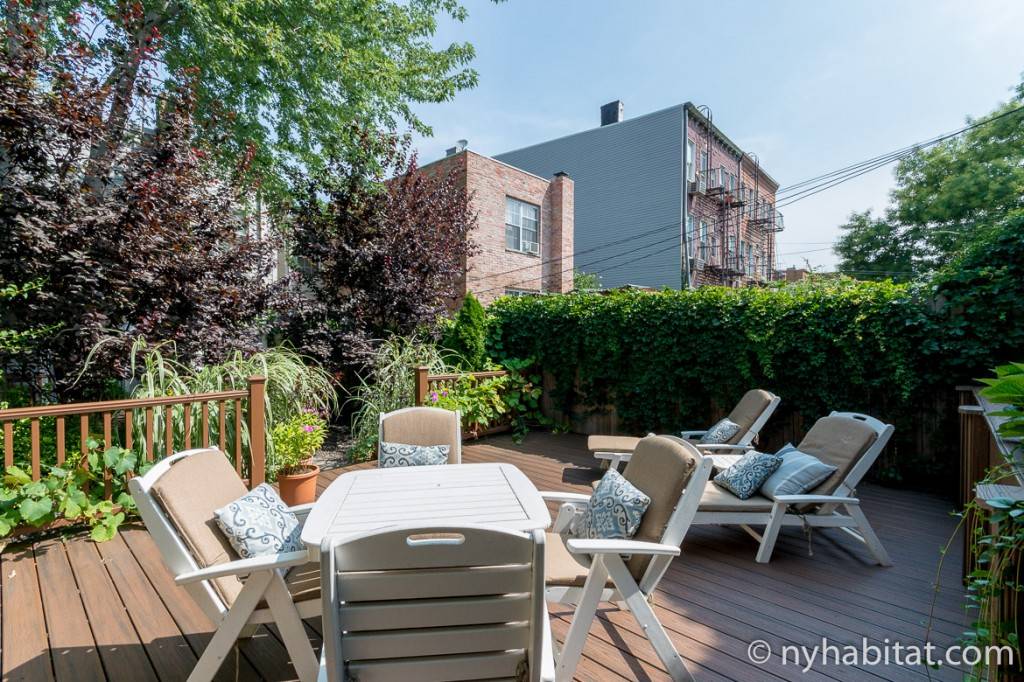 Even in winter, the sunny neighborhood of Williamsburg is ideal for sitting on the terrace with friends.
The Williamsburg neighborhood has quickly become the place in Brooklyn to go to find eclectic and trendy bars, entertainment venues and attractions that offer an alternative to the chic borough of Manhattan. This T2 vacation rental apartment is perfect for artists who want to explore the city and be surrounded by creative minds like theirs. It is on the first floor (the equivalent of the ground floor in Europe) of a two-story townhouse built-in 1910, so that only the historical value is sufficient to choose this apartment. You will have access to a private terrace and discover a bohemian but elegant interior, perfect for staying at home and doing nothing on a rainy day. If you fancy a craft beer, the nearby Brooklyn Brewery will not disappoint. On-site, you will be able to see how the beers are made but above all to taste them. Even if the district of Williamsburg is aimed at a young population, this does not prevent tourists and even the inhabitants of Manhattan from strolling in this hipster district of Brooklyn.
9. Apartment T3 in the Park Slope – Barclays Center area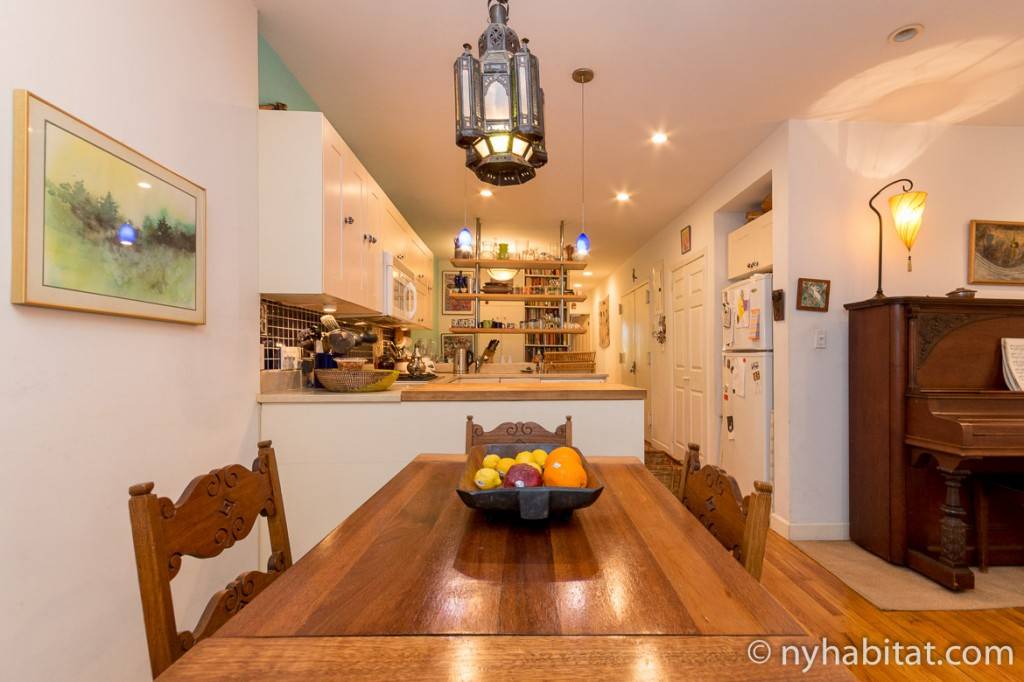 Thanks to this table, you can invite many people, which makes this apartment the perfect place to spend a vacation.
This comfortable T3 apartment is perfect for those who want a warm and cozy place with the advantages of large spaces, which is quite rare in this city. This furnished rental includes a washer-dryer in the apartment, a jacuzzi and allows you to bring your pet (in case it is too difficult to leave your faithful companion at home!). In addition, there are many storage spaces, so you can pack your bags in peace and feel at home once there. Park slopeis one of the oldest and best known neighborhoods in Brooklyn. It is renowned for its delicious restaurants, bars and entertainment. For those who want to attend the best events in the area at all costs, look no further than the Barclays Center , one of the best sports halls in New York. Dozens of artists play regularly here, and many sporting events such as boxing fights or basketball games are also held, it will take you only about twenty minutes to walk from the apartment to get there.
Thanks to its unbeatable price, it is definitely worth staying at Park Slope which is an extraordinary district.
10. Four-room apartment in Crown Heights – Brooklyn Children's Museum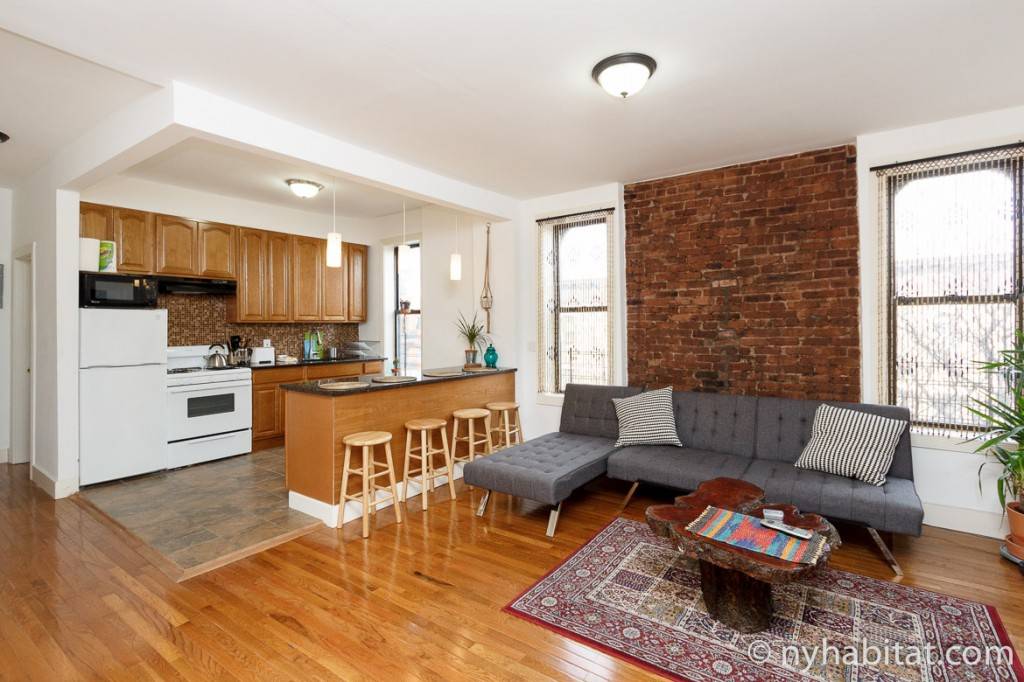 The Crown Heights neighborhood has quickly become Brooklyn's best kept secret.
Stay at this apartment rental in Brooklyn and you can enjoy many benefits such as natural light that floods the room through the windows and an open kitchen that allows you to prepare homemade meals during your vacation instead of eating out. In this apartment, the dining room can hold up to 6 people, so don't hesitate to invite a whole group of friends! The Crown Heights neighborhood has quickly become a favorite in Brooklyn. Culturally rich, it has tourist sites for the whole family while retaining the charm of a little-known district. Go visit the Brooklyn Children's Museum (the first of its kind in the United States!) to spend a fun day with the children during which they will be able to see many exhibitions that allow learning while having fun.
There are so many neighborhoods in New York that offer spectacular rentals that you should make sure you choose the one that best suits your needs and desires. In fact, no matter where you stay in New York, you are sure to return home with many memories to share with your friends! Whether you are interested in world gastronomic cuisine , innovative theater or the calm that one feels when sitting in a magnificent park by the water, you will inevitably find an apartment that will satisfy you.