You are planning your next big apple trip and would like to know more about the New York airport shuttle? Then this article is made for you.
Indeed, whether you arrive at JFK Airport, La Guardia, or Newark, be aware that you will have different transfer options to reach Manhattan. Also, one of the best options is the shuttle.
15% discount on the price of your shuttle!
To reach Manhattan, you can choose the shuttle. Right now, you can benefit from a 15% reduction in the price of your shuttle.
To take advantage of it, click on the button below!
The shuttle connecting New York airports to the center of Manhattan is that of Go Airlink Shuttle. It is a kind of minibus, or van, as shown in the photo below.
It is convenient whether you are traveling alone or in a group of several people. It is available from all New York airports. However, it is imperative to book it in advance on the internet. To do this, go to the official website of Go Air Link Shuttle by clicking here. The site is in English, but I have prepared a detailed tutorial with screenshots just below. You have to follow the instructions to book.
The Go Airlink shuttle is a shared shuttle, which can accommodate up to 9 people! Just like a taxi, the shuttle will drop you off at your hotel. The only differences with the cab are that you share the shuttle with other people and, therefore, the price is much lower.
So this is an option to consider if there are several of you. Indeed, it is always a little more complicated to take the metro when you are a group, especially when you have several pieces of luggage. So, to avoid losing your friends or your children in the middle of the New York subway (or struggling with your luggage during rush hour), I recommend you choose the Go Airlink shuttle!
A ticket for the Go Airlink Shuttle will cost you approximately $ 21 per adult. Whether the shuttle is full or not, the price remains the same. This remains much more advantageous than the $ 80 that a taxi costs. And as I said above, it is much more convenient than the metro.
Also, note that the price of your shuttle ticket includes two pieces of luggage, then no need to restrict yourself!
As I said above, I recommend that you do this in advance by booking your Go Airlink Shuttle tickets now. Anyway, to reserve one or more seats in the shuttle, you must go through the official Go Airlink website, available by clicking here.
Now let's see how to book your ticket through this little tutorial.
Here is an essential question! To help you, here is a little tutorial that will be of great help when booking your Go Airlink shuttle. As you can see, online booking is straightforward.
For this tutorial, here is the information provided (as an example):
A reservation for two people.
Two suitcases in total.
Arrival at JFK on April 10, 2017, at 8:30 p.m. and departure on April 17, 2017, at 7:30 p.m.
Hotel address: Warwick New York, located at 65 West 54th Street, New York, NY 10019.
Round trip shuttle.
Step 1: Go to the Go Airlink NYC home page.
Step 2: To reserve, you will have to look at the small insert below then click first, in the box "Pick Me Up From".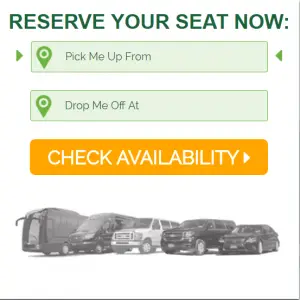 Step 3: The window below opens and asks you to enter the information necessary for your transfer.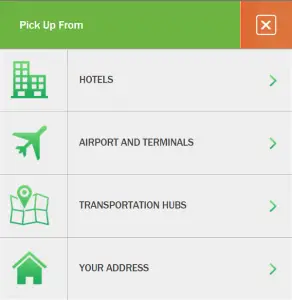 In my example, I arrive at JFK airport. So I click first on "Airports and Terminals" and choose "JFK Airport".
Note: if you wish to make the Manhattan -> airport journey, you must choose the "Hotels" section so that the shuttle picks you up at the address of your accommodation.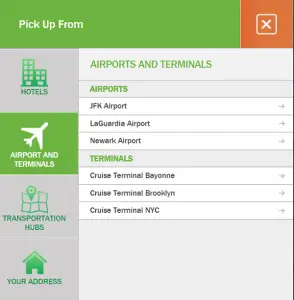 Step 4: Then click on ""Drop Me Off At"" (which means ""drop me at"").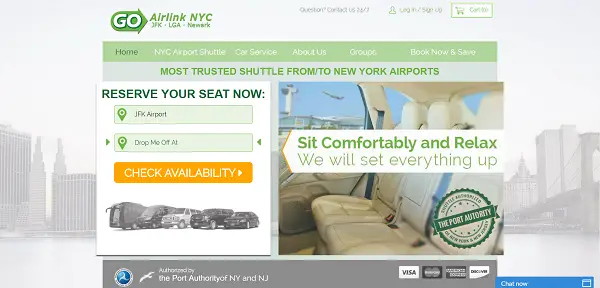 The window below opens. In our example, we want to be dropped off at our hotel. So we click on the "Hotels" field.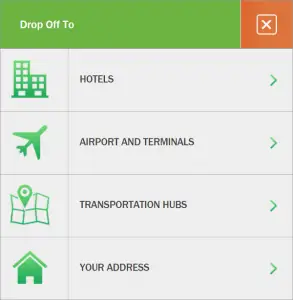 Step 5: Enter the name of your hotel. In our example, the Warwick Hotel is proposed. We select it.
Note: if you are staying in an apartment, click on "your address". This will allow you to specify the address to drop off at precisely.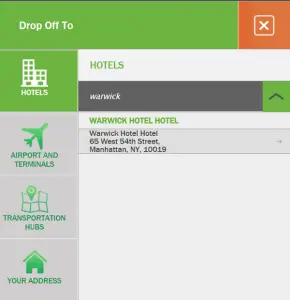 Step 6: Once these two details have been entered, click on "Check availability" (which means Check availability).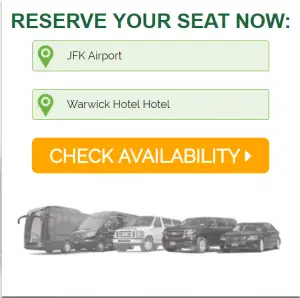 Step 7: Fill in the details of your flight.
The "Round Trip On" button activated (set by default), means that you choose the "round trip" option. If you only want a one-way trip, you will need to select the "Round Trip Off" button.
Once you have chosen the option, fill in the information concerning your flight:
Flight Arrival Date: day of arrival of your flight in New York
Hour / Minutes: hour and minutes of your flight arrival (note: a.m = morning and p.m = afternoon).
Flight Departure Date: day of departure of your flight.
Hour/minutes: hour and minutes of departure of your flight.
Adults: number of adults to transport.
Infants under 3: the number of children under 3 to transport.
Please select one: "Domestic" (flights within the United States), "International" (flights outside the United States). For our example, we have selected this second option, and this is the one you should choose if you are coming from France.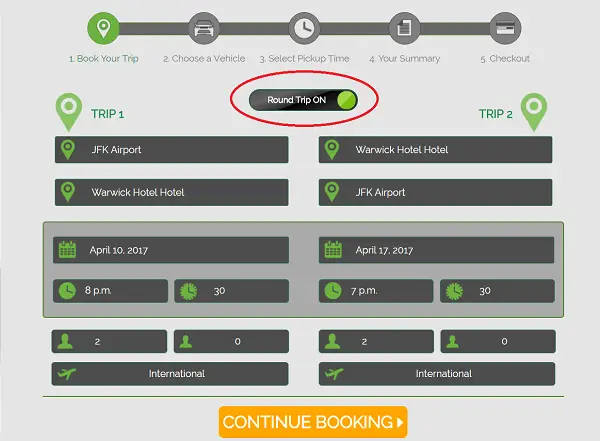 Once this information has been entered, click on "Continue Booking".
Step 8: You arrive on the page dedicated to the reservation of the vehicle:
Shared Ride Shuttle is a shuttle shared between 9 people. This is the most classic and cheapest option where you share the vehicle with other people (the shuttle will drop you off in front of your hotel or apartment)
The sedan can hold three people.
SUV can carry a maximum of 3 people.
Private Exclusive Van is a private van that can carry 11 people.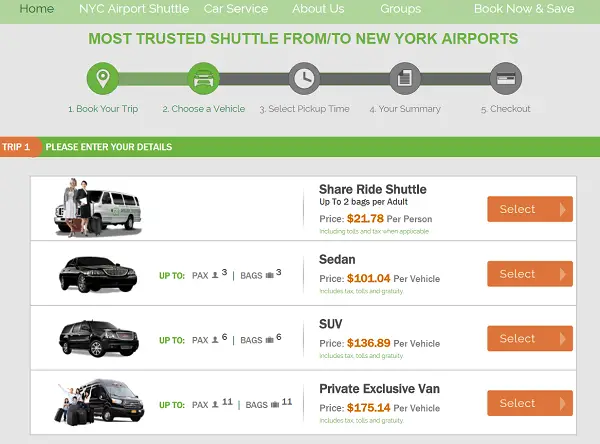 From the selected vehicle, click on "Select".
Please note: you will have to choose your vehicle for the outward and return journey.
Step 9: You arrive on a summary page. If all the information is correct, click on "Continue".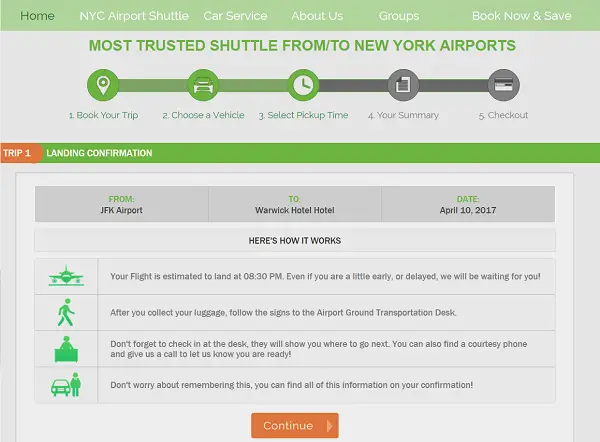 Step 10: On this page, you have the schedule when the driver will pick you up at the airport ("Pick Up") and the approximate time when he will drop you off at your destination ("Estimated Drop-Off"). Once you have selected the time, click on the "Select" button.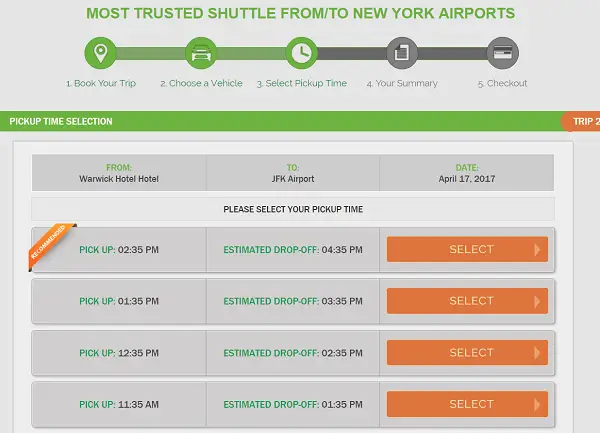 Step 11: A summary page then appears on your screen. Check the information and if it is correct, click on "Continue".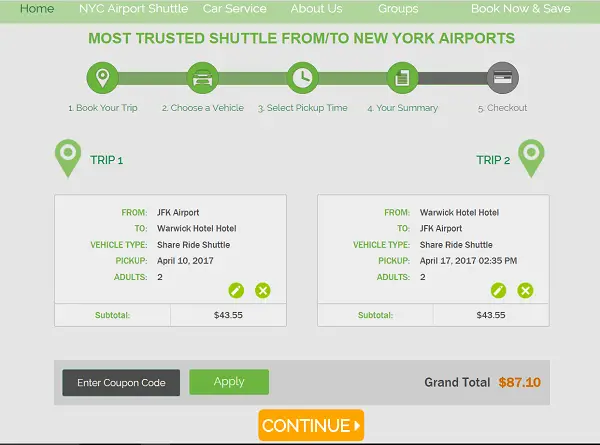 Step 12: Finalize your reservation by filling in all the fields requested. Your contact details will be indicated for payment and billing.
This tutorial is finished, now let's see how to get to the shuttle once you have picked up your luggage at the airport.
When you arrive at the airport and after clearing customs and collecting your luggage, try to locate the "Ground Transportation" signs. Then follow these, which will take you to where you can board the shuttle.
There is a ticket office on-site where you will have to go. If you have already bought your tickets online (which I highly recommend), you will only have to present your confirmation email that you will have printed, or that you will have on your mobile. You will then be printed your real ticket, which will allow you to board the shuttle.
Once your ticket is in your pocket, wait for your shuttle, which will be announced to you by one of the Go Airlink Shuttle staff members.
The right side is that the staff usually make sure to group passengers by quarters. So that means there is a good chance that you will not make countless stops around the city!
Once installed, enjoy the path and open your eyes wide! Because in the end, this is a little city tour that you are going to do, and it is quite pleasant! You will be able to see several monuments or attractions and find your bearings a little better.
Book online
As you can see, the Go Airlink shuttle is an optimal solution for the journey between central Manhattan and one of the three airports in the city. Also, to book your tickets online, go to this link.
Enter your information
Once on the company's website, you will need to fill in your airport of arrival (pick up) and the hotel or address you will be staying at during your stay in New York (drop off). You will then be asked if you would like a one-way or round trip. If you choose a round trip, you will be asked for your return flight information to arrange a shuttle in advance.
Choose your vehicle
Then you can choose the type of vehicle you want to have. So you can travel in four × 4, a van shared with other people, a private van, a mini limousine, and more. Finally, you will have to choose the time at which you want the shuttle to pick you up, and you will only have to validate everything!
You will then arrive on a page summarizing all your journeys, which you will have to confirm. You will then access the payment page, where you will need to enter your bank details and other personal information.
Print your coupons
And behold, it is that simple! Once you've completed these steps, two coupons will be emailed to you. These will be exchanged for round trip tickets. Don't forget to print them. It will be more practical!
So, are you ready to discover New York and the wonders that this city has to offer? Feel free to check out my other articles on New York airports and other transportation options.
Have you tested the shuttle to reach your hotel or apartment in New York from the airport? So feel free to leave your review in the comments and your rating below.